Pierre Bader to open Aria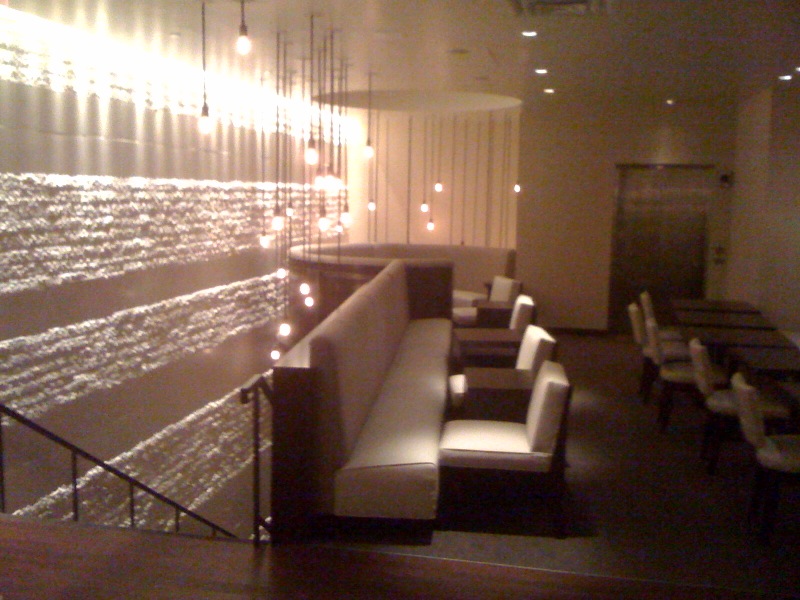 Richard Thurmond here with a guest post on Dine & Dish.
A couple weeks ago, restaurateur Pierre Bader gave me an impromptu sneak peek at Aria, the Italian restaurant he's opening soon in Founders Hall. Designed by LITTLE, It's a gorgeous space. There's a lounge upstairs (in the photo) which Bader is calling La Scala and promises will be open for post-show drinks. Downstairs, it's a clean, modern look with a homey square bar in the middle. Behind the bar is a temperature-controlled wall of wine — 1000 bottles worth. There's an old farmhouse table right in the kitchen — the city's first true chef's table dining. He says it will open January 15.
I just got the menu for the new place. It is pasted below for your mouth-watering pleasure:
MENU
Antipasti
Tuna Carpaccio 12
Olive Oil Poached Asparagus, Grilled Lemon, Cracked Pepper
Fried Gnocchi 11
Prosciutto de Parma, Pear, Gorgonzola, Truffle Oil
Fire Baked Clams Oregonato 8
Littlenecks, Onion, Red Pepper, Garlic Breadcrumbs
Crispy Crab Cake 13
Tomato Compote, Horseradish Remoulade
Tuscan White Bean Soup 6
Carrots, Celery, Bacon & Kale
Caprese Salad 9
Fresh Mozzarella, Tomato & Basil, E.V.O.O
Fritto Misto 13
Calamari, Scallops, Lemon & Parsley
Steamed Mussels 10
Plum Tomato Sauce, Sambuca, Fennel & Herbs
Eggplant Parmigiana 8
Marinara Sauce, Ricotta & Basil
Braised Beef Short Rib 9
Mascarpone Polenta, Gremolata &Tarragon
Antipasto 13
Salumi, Cheese, Olives, Peppers & Marinated Artichokes
Classic Caesar 7
Romaine Hearts, Croutons, Anchovies & Parmesan Dressing
Bruschetta 7
Sheep's Milk Ricotta, Olive, Tomato, Basil & Sea Salt
Pizza
Margherita 10
Fresh Mozzarella, Tomato & Basil
Wild Mushroom 12
Goat Cheese, Caramelized Onion, Arugula & Truffle Oil
Napoletana 11
Tomato, Anchovies, Capers, Peppers, Oregano & Olives
Four Cheese 12
Mozzarella, Fontal, Provolone & Pecorino
Sausage & Peppers 11
Fennel Sausage, Tomato, Bell Pepper, Onions & Mozzarella
Primi
Fettucine alla Carbonara 11
Bacon, Parmesan Cream & Cracked Pepper
Spaghetti & Meatballs 13
Garlic & Herb Meatballs, Red Sauce & Parmigiana
Orecchiette with Sausage 12
Toasted Garlic Rapini, Chiles & Breadcrumbs
Penne alla Vodka 11
Vodka & Tomato Cream & Ricotta
Roasted Butternut Squash Ravioli 15
Spinach, Parmigiana & Sage Brown Butter
Spaghetti del Pescatore 19
Shrimp, Clams, Mussels & Spicy Tomato Sauce
Pappardelle 15
Braised Duck Ragu, Pecorino, Fresh Herbs
Potato Gnocchi 13
Mushrooms, Fennel & Asparagus
Risotto 9
Artichoke, Lemon, Peas, Crumbled Goat Cheese
Lasagna 12
Bolognese Sauce, Ricotta & Basil
Secondi
Osso Buco 26
Garlic Swiss Chard, Creamy Polenta, Cipollini Onion Sauce
Chicken Parmigiana 16
Chopped Tomatoes, Melted Mozzarella, Parmigiana and Sautéed Spinach
Veal Scallopini 19
Lemon Butter, Capers, Parsley, Broccoli Rabe & Buttered Noodles
Bistecca 25
Grilled Angus Ribeye with Roasted Fingerling Potatoes & Arugula Salad
Porchetta 20
Crispy Suckling Pig with Brussels Sprouts, Caramelized Apple
Grilled Salmon 19
Green Asparagus, Parmesan Risotto, Portobello Broth
Roasted Bronzini 23
Artichokes, Peas & Tomato-Anchovy Vinaigrette
Seared Tuna 22
Fennel Crusted with Caponata and Aged Balsamic
Grilled Lamb Chops 25
Braised Escarole, White Beans & Rosemary Sauce
Roasted Cornish Game Hen 14
Roasted Root Vegetables, Fingerling Potatoes & Pan Juices