Pillow Talk
Longtime friends take pillows and turn them into artistic expressions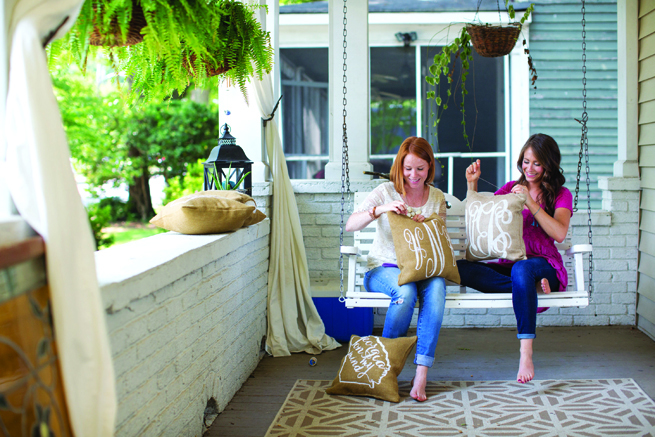 Sara Dimitroff and Betsy Boswell share a seat on a large chair in Dimitroff's living room in Elizabeth. It's clear this is a designer's home: The dark gray bricks of the fireplace contrast with the cream walls and the black, geometric cutout mirror that hangs by the front door. As the friends talk, they finish each other's sentences.
The owners of Two Peaches Design met eight years ago through Dimitroff's husband and began making decorative burlap pillows in Athens, Georgia. They moved to Charlotte last winter, after their husbands got job offers in the city. "We both love being crafty. We feed off each other's ideas and work together really well," Dimitroff says. "After Betsy made some pillows around the holidays for relatives, they were such a hit that we decided to keep making them."
Their pillows are sold mainly through Etsy.com, and they get orders from all |over the country. Design requests vary: from seahorses to monogrammed letters in fancy script, to a simple scalloped pattern that trails across the 15-by-15 burlap canvas. It's evident that business is successful by the "ping!" that rings from their phones every few minutes. "That means we made a sale on Etsy," Dimitroff says.
Each pillow has a story. When Boswell's close friend lost a cousin, Boswell created a special pillow in his memory. The woman and her cousin shared a favorite song. "The pillow I made for her had the lyrics of the song on the front," Boswell says. "She keeps the pillow on her bed."
In the future, Dimitroff and Boswell hope to feature Two Peaches Design pillows in boutiques around the city and to start their own online shop. Their pillows are already being sold in the Blacklion store in Pineville. For now, they get a steady flow of custom order requests and also make sales through craft shows at stores like West Elm. "We got successful so fast that we're up until four in the morning sewing pillows, but we love it," Dimitroff says.
---