Pint Central opens in Plaza Midwood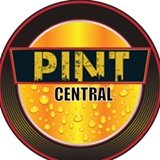 Plaza Midwood has long been known for being a neighborhood that caters to a wide range of offerings when it comes to dining and nightlife. From Soul to Whiskey Warehouse to Thomas Street Tavern to Peculiar Rabbit to Krazy Fish (related: Save Krazy Fish!), there's something for just about everyone.
Now, Plaza Midwood can also add a full craft beer-based bar/restaurant to its portfolio. Pint Central, located on Central Avenue right next to Joe Hooper's, had its soft opening this past weekend.
While not enormous, there are a decent number of tables and a huge bar. Near the back is a garage bay door that opens to a spacious patio, which will serve Pint Central well come summer. There's a small bar near the garage door so customers can order drinks from outside as well.
The draft selection was solid, with 28 beers on tap, including Birdsong, NoDa, Olde Mecklenburg and Triple C on the local front (I'd imagine you can add Unknown Brewing to this list in a few weeks), along with Ballast Point, Beer Army, Duck-Rabbit, Highland, Hi-Wire and Natty Greene's, to name a few others. Pint Central also offers more than 60 bottles.
And while I mainly write about beer, Pint Central's menu deserves some mention as well. Along with what you would expect (wings, burgers, sandwiches), there's an adventurous side to their food. Rack of lamb, churrasco and mahi mahi are among the entrees, while Pint Central's appetizer choices include empanadas, eggplant dip and lamb lollipops.
They were only serving appetizers during the soft opening and everything I had was delicious, particularly the chicken poppers, which consisted of jalapeno, mozzarella and chicken wrapped in bacon (otherwise known as Matt's heaven). Also, all of the bread is local from Nova's Bakery.
Pint Central will be serving a partial menu initially, along with a full bar selection. Hours are noon to 11:30 p.m. Sunday through Wednesday, and noon to 2 a.m. Thursday-Saturday.