Plate Review: Heritage
The farm-focused restaurant in Waxhaw has several star dishes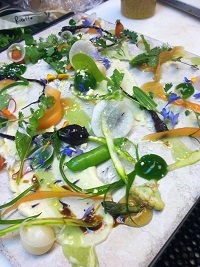 Being fairly new to Charlotte, I had never gotten a chance to venture into our sister town, Waxhaw. Luckily, Chef Paul Verica's eatery, Heritage, was just the kick I needed to head south.
Although my guests and I ate our way through what felt like the entire menu (and NOTHING was amiss or un-delicious), there were a few dishes that stood out for their beauty, taste, and creativity. The star dish in terms of best-looking is the ever-evolving spring veggies on the small plate menu for $10. Chef picks and chooses his vegetables, flowers, herbs, and greens based on availability for the week (the menu is constantly changing). Then, if you'll reference the picture above, Chef creates his own artistic plate of entirely edible ingredients. A wonderful starter, the spring veggies leave diners feeling refreshed and quite in touch with the farm-to-table movement, on wich this restaurant relies heavily.
Other surprising favorites included the deviled eggs (a curry rendition accompanied the classic execution) which were creamy and a perfect shared plate. The chicken liver small plate — something I was definitely a little unsure of before I tasted it — hosted the rich chicken giblet alongside fresh radishes and other peppery bites.
The excitement of an ever-changing menu is that you can always have a different experience at a favorite restaurant. Head out to Waxhaw and give Chef Paul's Heritage a try — it's sure to become a favorite.