Podcast Challenges Men to Drop the Mic, Let Women Say Their Piece
A look at veteran journalist Stuart Watson's Man­Listening series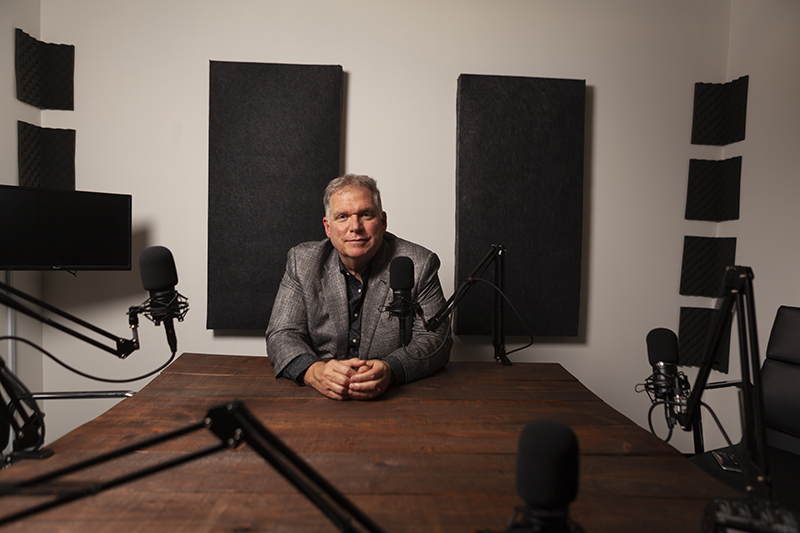 AFTER FIVE EPISODES of his Man­Listening podcast, veteran Charlotte journalist Stuart Watson arrived at a stage common to anyone's self-funded, self-driven venture: He was ecstatic about what he'd done and the enthusiastic reception from friends and loved ones—and horrified at the possibility that his passion project, which he'd worked on for the better part of two years, would lose money. When we speak in early February, he struggles to focus on the idea that animated the project in the first place: that women have stories to tell, and men need to learn to shut their traps and let women tell them.
"You have to know why it is you're doing something," he says. "I've had to say, 'I'm doing this because I genuinely want to learn to listen better.' Once I've committed to doing that, at the end of the year, if I've spent a whole lot of time and energy and money, and all I've done is lose money, I have to be at peace with it. As soon as I go down that path, I've sold myself out. The reason I'm doing this is that it's the right thing to do."
ManListening—it's a play on "mansplaining"—launched in early January with its first full episode, a 52-minute conversation with "Tina," a recovering crack addict, "about life and death and new life." Subsequent episodes relay similar stories of growth through difficulty: a Nashville teacher who persisted through school gun violence; the struggles of a fellow investigative reporter over a long career. Watson, who turns 61 this month, has driven that kind of road himself. He was a fixture for 16 years at WCNC-TV, where he worked as the station's primary investigative reporter. He specialized in breaking stories about high-profile figures and their financial excesses, like the $1.6 million Waxhaw mansion of Elevation Church pastor Steven Furtick and the more than $1 million pay-and-benefits package of former United Way of Central Carolinas CEO Gloria Pace King.
In 2015, the station fired him as part of a newsroom downsizing, and he turned to more personal work, including a 2016 documentary that traced his own history as an adopted child and recovering alcoholic. (He's been sober since the early 1990s.) Watson jokingly refers to himself as a "media mogul" but in reality owns a "very, very, very, very tiny media company," he told me. "And this is the first product." When he decides on others, he says, he'll share the details.
It started a couple of years ago when he took an online personality test, which revealed that he was an "empathic listener." Watson did what any empath would do in that situation: He rushed to his wife, Lorraine Jivoff, to brag about it. She scoffed. "And he got this look on his face," she says, "like, 'But the personality test!'"
He was quickly set straight, then began to reach out to women he knew: friends, family, colleagues. Before the launch, Watson recorded conversations with 38 women about what they'd been through, achieved, overcome, and learned, and he discovered something astonishing: Many women, especially from older generations, are so conditioned to think of themselves and their life stories as nothing special that they were surprised at his interest. In the fourth episode, Watson speaks to a friend, "T Mack," once the fiancée of an unidentified Carolina Panthers player who believed, falsely, that she was cheating on him. She suffered the emotional upheaval of his paranoia, jealousy, and breaking off of the engagement.
He didn't abuse her physically, but that's part of the episode's point: Every woman has a compelling story, and it doesn't have to shock to matter. "I don't know if I have anything interesting to say," T Mack says early in the episode. Watson pauses, as if taking it in, and responds: Yes, you do. "It's been a huge learning experience for me," Watson says. "Unless we're climbing Everest, we don't give ourselves any credit. I love the idea that behind every woman—every woman—there's a great story. It's just up to me to listen well enough for that story to come out."
He's committed to 52 episodes, a year's worth. During his launch party at The Evening Muse in NoDa, he asked a crowd of about 75 to return on January 12, 2021, and celebrate whatever happened, financial success or failure, podcasting sensation or not. "There's no such thing as a loss," Watson says. "Everything is a lesson."
ManListening is available for subscription on Apple Podcasts and on Twitter, Facebook, and Instagram as @manlistening.