Podcast Gives Old-Time Piano Music New Life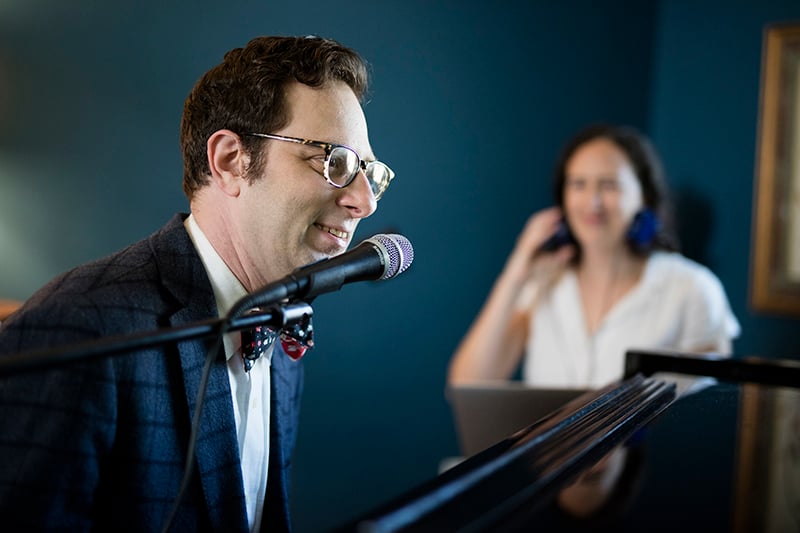 MOST OF ETHAN USLAN'S piano gigs are at retirement homes. He prefers it that way.
"They listen. When I talk about the pieces, I see what people respond to and what they don't," Uslan says. "When I make little jokes, I try it out on them."
This unusual setting for his performances reflects his unique specialty: ragtime music. The piano genre, characterized by its syncopated rhythms, is an early form of jazz. Enormously popular in the first half of the 20th century, ragtime doesn't appeal to modern audiences the way classical and midcentury jazz do. Although ragtime and jazz are intimately related, jazz festivals seldom feature ragtime musicians. Uslan, who studied music at Indiana University, says that many jazz enthusiasts also give short shrift to the genre.
"You'll learn about it in your jazz history class, but you won't be expected to play it," he says. "I think it is unjustly neglected."
In 2004, a job brought Uslan and his wife, Kate, to Charlotte. Now, he performs full time. Since late 2016, the couple has also brought attention to the overlooked genre by producing their own podcast, The Carolina Shout. Uslan argues that the music's fun, fast-paced beats and technical virtuosity make it worth celebrating. Plus, he says, ragtime's history makes it an important part of American heritage. "It's in our blood," he says. "It's one of America's big contributions to the world."
Uslan writes and hosts each episode, finding a theme and digging through sheet music archives. Themes have included sports, outer space, and the Titanic. (Kate recommends the Titanic episode to first-time listeners.) An episode devoted to songs about crossword puzzles features an interview with New York Times and NPR puzzle master Will Shortz. Actor Jesse Eisenberg has also made an appearance, but for Uslan, the show's greatest strength is the music.
The result of the host's extensive research is a fluid mix of music, humor, and commentary. Between songs, he explores composers' biographies, ragtime history, musical characteristics, and social issues. Uslan hosts the show from his piano bench, and he plays all of the music on a grand piano that takes up most of their home's front room.
Cords snake from microphones to Kate's laptop, where she'll later mastermind the final product. She also manages the podcast's digital presence. The show boasts listeners from all over the world, and last year, the couple's work was featured on The Guardian's podcast blog. Because Uslan plays the music himself rather than using recordings, he reckons that The Carolina Shout is the only podcast of its kind.
At about 20 minutes each, the episodes are fun and illuminating guides to the world of ragtime, and they appeal to the uninitiated and music mavens alike. More than just funny and personable, Uslan is also a qualified guide—he's won the World Championship Old-Time Piano Playing Contest three times.
When he started writing and researching the podcast, Uslan figured there might be enough material to last a year. Now, he's convinced that there's enough to last forever. As much as Uslan enjoys his gigs, at retirement homes and elsewhere, both Uslans entertain the idea of producing the podcast full time. It's notoriously difficult to turn a profit in the podcast business, but Uslan says he'll release new episodes as long as he's able. He makes the podcast because he loves the music. And because he thinks you'll love it, too—even if you've never heard of it.
---
The Uslans learned some of their production skills from Andy Goh, who teaches SkillPop's Podcasting Essentials class. Goh produces On Life and Meaning, a podcast hosted by Mark Peres that explores devotion and purpose through interviews with notable Charlotteans. Goh recommends Cheers Charlotte, a long-running show focused on the city's craft beer scene. One of Goh's former students, Terry Brown, went on to produce Black & Read. Joined by a guest, Brown dives deep into books and considers literature from a black American perspective. Finally, the pair behind The Margarita Confessionals figured that others could relate to their happy-hour conversations about dating and being women in the Queen City. They were right—the podcast is routinely named one of the best in Charlotte.