Poppyseed Ham Rolls Recipe
The Perfect Snack this Football Season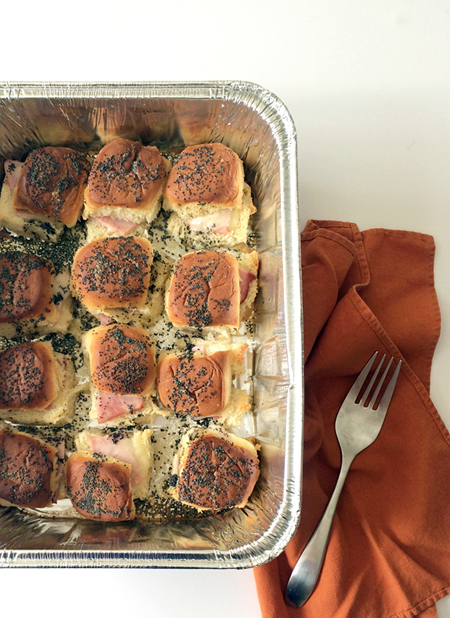 Looking for an easy, crowd-pleasing snack? My grandma always hosted large amounts of people in her home. Her ham rolls were our evening snack after large afternoon lunches. Lately I find myself making them for casual get-togethers. They always receive compliments!
Poppy Seed Ham Rolls
Modified from allrecipes.com
(makes 12 mini sandwiches)
6 tablespoons melted butter
1 tablespoon dry mustard
1 tablespoon poppy seeds
1 tablespoon dried minced onion
12 mini Hawaiian rolls
3-4 slices Swiss cheese
Several pieces of sliced ham
1. Preheat oven to 350degrees F. Set a 9×13 baking dish to the side. Mix together in bowl: melted butter, mustard, poppy seeds, and dried onion.
2. Slice rolls in half (top and bottom) and separate each roll. Place roll bottoms in baking dish and add a small slice of ham and cheese to each. Cover with top of roll. Pour poppy seed mixture over the ham rolls.
3. Bake in preheated oven for 15 minutes or until rolls are light brown and cheese is melted.