Porcelain from Powder Studio
Two NoDa artists make modern art out of clay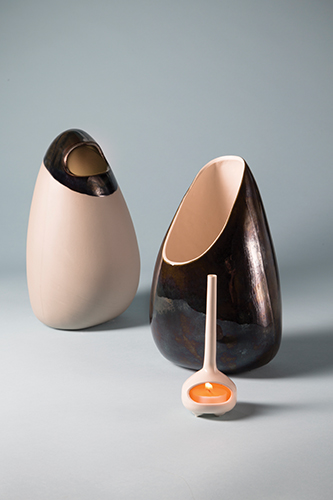 In the latest issue of Charlotte Home + Garden, you'll see the work of Stephen James and Nathan Tucker. The pair owns Powder Studio in NoDa where they hand-cast porcelain creations.
The business idea started when Tucker was in graduate school at Parsons The New School for Design in New York City. He was working on a project to illustrate how whole things are the sum of their parts. So he made a mold of his mouth and cast it in porcelain. The "Choir" tea lights, with the imprints of his teeth, were the first products offered in the Powder Studio line. The small vessels hold a tea light, and the porcelain's thin walls allow the light to softly shine through.
Tucker and James' favorite quality of their works is that each one is open to interpretation. Many people find the "Choir" lights personal and endearing. But a woman at the Vintage Charlotte market, put the piece down and quickly walked away when she learned that it was made from a mold of Tucker's mouth.
"We like it because they look different to everyone," James says. "Everyone sees something different in it."
Their line now includes succulent planters called "Stampers;" mini "Chimenea" tea lights; a jewelry tree made from the mold of a jeweler's hand; the "Companion" convertible vase that can be displayed vertically or horizontally; and its sculptural twin, the "Chamfer" vase, which has a mouth wide enough to hold a bouquet of flowers.
James and Tucker make all of the molds, pour all of the porcelain, mix all of the glazes, and fire all of the pieces inside their studio on Bernard Avenue. Porcelain dust fills the back room where the work takes place. Porcelain is a delicate medium. They lose about 25 percent of their work in the creation process.
It takes three to four weeks for them to fill a kiln. After the 12-hour firing process, they anxiously wait for the kiln to cool down, so they can open it and see what they have. Some pieces will turn out exactly as planned, some won't turn out at all, and others will be a surprise.
"It's so raw yet so finished at the same time," Tucker says. "You can spend hours putting your hands on it, and it looks like it belongs in nature."
Visit the Powder Studio website to see their products.