Porcelain Pendants from Powder Studio
Two NoDa artists grow their business to include creative, modern light fixtures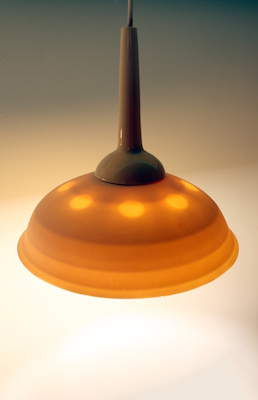 We first met Stephen James and Nathan Tucker of Powder Studio on the pages of Charlotte Home + Garden this past fall.
They were churning out hand-cast porcelain creations from inside their NoDa shop, such things as vases and tea-light holders. They still make those pieces that caught our eye, but they've added to their collection. A few weeks ago, they introduced three different pendant lights to their line.
The complex pieces required about four months of experimenting and adjusting. The "mother ship" light ($300) has two parts, a diffuser and a reflector, that combine to create the "quality of light" that James and Tucker wanted. Porcelain naturally allows some light to come through, which has always been a warm, attractive quality of the Powder Studio tea-light holders, but the pendants take it to another level. The holes in the "mother ship" light inspired the outer space theme for the light fixture line, which also includes the "lunar" and "rocket ship" designs.
The biggest challenge for James and Tucker was to develop a porcelain mold that accounted for all of the light's hardware. They would think they had it right and then fire the porcelain and the holes would shrink during firing. But the two have become experts at troubleshooting and tweaking.
Their latest project, now that the lights are underway, is making their own porcelain. They start with clay from Tennessee and then mix it in 50-gallon batches.
"It's like one giant science experiment," Tucker says.
The "lunar" pendant light comes with a gray or blue interior. $125.
The "rocket" pendant comes in small and medium sizes. From $75.
——————–
We want to hear from you! Voting is now open for the Shopping + Home section of Charlotte Magazine's Best of the Best Voters' Choice Awards. From fine jewelry to antiques, bedding and linens to plants — we want to know where you go. Click here to vote for your favorite places in town. Ballot closes March 22.