Potato Salad Season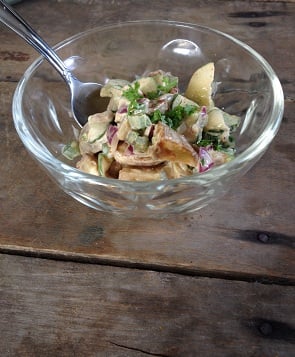 With the birthday of our great country right around the corner, all things outdoors and grilling come to mind. You may be stocking up on fresh ground beef for your famous burgers or tons of all-beef hot dogs ready to take on the perfect char and topped with homemade fixins.
Whatever you choose to make, there's one side that will likely grace the table during any Fourth of July bash-tacular: potato salad. This humble dish show up at just about every picnic or outdoor eating event, and doesn't seem to get the love it deserves. Part of the problem is likely the tons of mayo and predictable taste that goes with the average adult's perception of the side. Don't worry; I'm here to help.
The first recipe I bestow upon you is one I actually accidentally made myself. Well, two accidents, really. The first was an experiment in potato salad with jalapenos. The second was a recipe I found online for a "guacamole" potato salad. Fun fact: for both versions, you can grill potatoes beforehand for a charred flavor. I mean, you're going to be grilling anyway, so why not?
For the jalapeno potato salad, I did not include the bacon in the recipe, although I fail to see how it could make this dish anything but even better. Secondly, I added a little bit of dippin' mustard to mine for a tang.
For the guacamole version, I actually was freaking out/trying to use up an avocado which was on the verge of too ripe to eat. Luckily, this refreshing twist on potato salad worked as a perfect vehicle.
So please, for the love of our country, don't make the usual boring sides this Fourth of July. Try one of these totally different and NOT predictable versions to wow your guests or, at least, let them believe there's more to potato salad than mayo and cold tubers.