Pottery and Summer Showcase at Lark & Key
Stop by the South End gallery and boutique for locally made pieces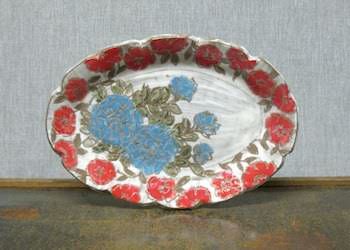 When Sandy Snead and Duy Huynh opened Lark & Key Gallery and Boutique in 2008, they narrowed the space's focus to painting, jewelry making, and pottery. Huynh paints. Snead makes jewelry. And pottery? Well, they just like it.
"We're drawn to handmade," Snead says. "And with pottery, you're holding it, eating out of it, drinking out of it. There's just something about it that we're drawn to."
Snead and Huynh recently made visits to several studios in Asheville. They returned to Charlotte with a load of pottery to stock their South End shop.
Trista Hudzik Reynolds is an Asheville potter whose work is now available at Lark & Key. Her hand-built and wheel-thrown pieces evoke thoughts of fresh floral bouquets. Her wares are designed for everyday use, and they are oven, microwave, and dishwasher safe.
(Left: oval platter by Trista Hudzik Reynolds; photo courtesy of Lark & Key)
Julie Covington spent several years in Thailand and New Mexico studying indigenous architecture. She now lives on a farm in Asheville. That experinece influences each piece she throws.
(Left: turquoise teapot by Julie Covington; photo courtesy of Lark & Key)
Another Asheville artist, Melissa Weiss makes plant- and animal-inspired works that are intended for daily use. They are dishwasher and microwave safe. Weiss makes her own stoneware recipe by mixing wild clay dug from the Ozark Mountains, commercial clays, feldspars, and sand. She also makes the slips and glazes.
(Left: lidded jars by Melissa Weiss; photo courtesy of Lark & Key)
When you stop by Lark & Key for some pottery, also check out the Summer Showcase, a collection of assorted artwork that continues until July 26. A new exhibit titled "Of Days Gone By," which includes various works that evoke feelings of nostalgia and wonder, begins August 1. Check back here and on the Lark & Key website for further details and images soon.