Pour the Wine at Stagioni
The new executive chef is hosting the restaurant's first wine dinner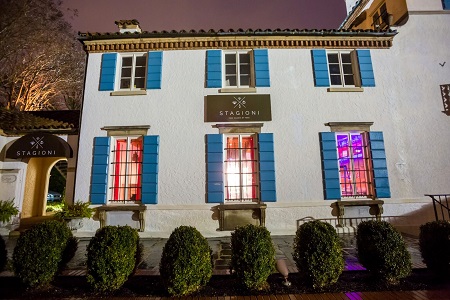 If you were wishing for more wine dinners, your dreams have come true.
On Tuesday, September 1 beginning at 6:30 p.m., Stagioni's new executive chef, Drew Dodd, will host the restaurant's first wine dinner; the spotlight will be on Antinori Family Wines from Tuscany, Italy, and, namely, the newly released 2012 Tignanello.
The event will kick off with a Prosecco reception at 6:30 p.m., followed by a five-course family style meal at 7 p.m. paired with five of the winery's wines. Courses will include a tuna carpaccio, whole roasted branzino with crispy fingerling potatoes, and gnocchi with duck confit, butternut squash, and gorgonzola dolce, all prepared by Chef Dodd. There's even a mascarpone mousse with peaches and raspberry granite for dessert. Reservations can be made by calling 704-372-8110; cost is $95 per person including tax and gratuity.
If you can't get to the event, never fear. We chatted with Chef Dodd about the kick off for more family style and wine events at the Italian eatery operated by Bruce Moffett (of Good Food on Montford and Barrington's), and he said that he "wants to showcase the rustic Italian family experience" with the wine dinners and through upcoming events. "The wine dinner gives us and me a chance to see what will work, what won't; to test out more labor intensive dishes or techniques that I haven't been able to try otherwise. It also gives me a chance to see what may or may not go on a menu – the family style dinners like the wine dinner are a great place for feedback on dishes."
"We want diners to see that there are other kinds of dining – that you can have a great time sharing a meal with a stranger." Dodd says that some of the dishes at this wine dinner – like the porchetta and Branzino – may become available for larger parties coming to Stagioni on a regular evening as an order ahead option.
Dodd, who just took over as Executive Chef in August, is excited about Stagioni's future. "I want to see what the capabilities are – family style was really part of Bruce's vision for this place; a bunch of people gathered around big tables sharing bowls of pasta… There are a lot of really cool elements to this restaurant and I'm excited to see how far I can push it. I wanna see what this restaurant can do."
We look forward to Stagioni embracing the family style Italian restaurant form via upcoming dinners and events.