Poverty in Charlotte: 'It Was Never Okay'
A working mother fights to give her kids a better life in a city where that's next to impossible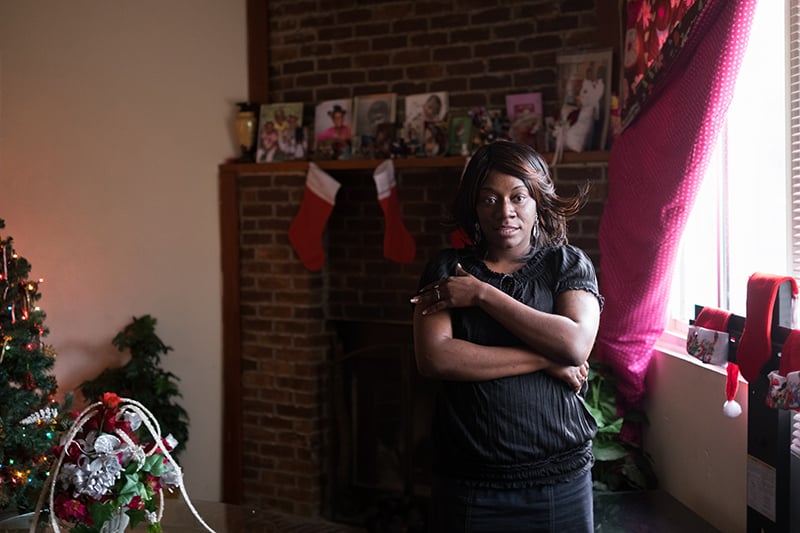 WHEN SHE COMES home from work tonight, Toreasera "Kisha" Dawkins knows two things will happen: Her three daughters will be waiting for her, and her husband will call from prison.
She knows this as she finishes her nine-hour shift behind the cash register at the Mighty Midget Mart gas station on Albermarle Road. She knows this as she walks outside, wearing jeans and a red Shell T-shirt, her long, dark hair streaked with blond and pulled into a side ponytail. She knows this as she pops the hood of her faded green 2003 Dodge Grand Caravan.
It's rush hour on a hot day in early July, and her radiator's shot. Kisha, 37, pours in cold water to keep the engine from overheating. She can't afford her rent, much less a new car, so for now, this will have to do.
She drives east past strip malls, Walmart, Goodwill—landmarks of life at the bottom rung of Charlotte's economic ladder. As she pulls into her driveway, her daughters crowd around the front steps. "Hi, Mommy!" they shout, all bright eyes and round cheeks. But she is already on the phone, talking to their father.
Travis Dawkins is serving four to six years in a Gaston County prison for breaking and entering, and this is month eight. For several years, until he was arrested, he stayed home to raise the girls while their mom was at work. Now he's a disembodied voice on the other end of the line, calling to make sure they remember him.
His daughters push open the screen door into their run-down ranch house, where a blanket-turned-curtain covers the front window. They race around the playroom, jumping on bare mattresses on the floor. Kisha holds out the phone and puts it on speaker so they can talk to their father. "Hey, Daddy, I love you, Daddy," sings Ja'Mya, the four-year-old.
Kisha asks the girls to clean up their toys. Ja'Mya obeys, but her two-year-old sister, Zyauna, doesn't, so her father tries to discipline her by speakerphone. "ZaZa, Daddy need you to put your listening ears on," he says.
"OK, Daddy!" ZaZa shouts back.
She and Ja'Mya and their one-year-old sister, Tyasia, scramble around, putting away dolls and games. "Daddy say he love you," their mother announces. "Tell Daddy bye."
All three shout back in unison: "We love you, Daddy. Bye!"
This is Kisha's family. It's not the one she planned, and it's not the one many social scientists would choose for her—a black woman raising three young children below the poverty line while her husband is in prison. Her family embodies many of the reasons it's so difficult to escape poverty in Charlotte: segregated housing, unstable families, the growing distance between her paycheck and the one-fifth of Mecklenburg County households that earn more than $115,000 annually. Kisha works an average of 45 to 50 hours a week and earns $12,000 to $15,000 a year. Some would blame her choices, others her lot in life. As she sees it, her only option is to move forward, to keep working and juggling bills and treating ear infections and praying, until by some miracle, by some mysterious force she cannot understand, she can give her daughters a life better than her own.
***
THE ODDS ARE against her. The likelihood of climbing out of poverty is lower in Charlotte than in any other big city in the country. Kisha's daughters have a 4.4 percent chance of growing up to join the top fifth of incomes in the country, according to a 2014 study by researchers at Harvard University and UC Berkeley. Kisha is familiar with this pattern. She, too, was born into poverty, and neither of her parents was prepared to raise her.
Her mother was just 18 when Kisha was born, and her father was rarely around. Kisha lived briefly with her grandmother before being adopted by her godmother, whom she calls Mama Rose. From the time she was eight years old, Kisha lived in the little gray house next door to the one where she's raising her daughters. It was far from luxurious—over the years, Mama Rose raised five kids in her cramped, three-bedroom home—but it was more stable than anything Kisha had experienced before.
When she was 25, Kisha thought she had escaped. She married a man who made so much money working for a recycling center that she didn't need a job. He promised to take care of her, and she loved him for it. "I always had whatever I wanted," she says. Except for the one thing she couldn't buy. Despite doctor visits and fertility shots, she could not have a baby. Kisha suffered five miscarriages, and then her husband left.
He left the day before the couple was scheduled to move into a new house. Although her husband had paid to rent the home, Kisha had to figure out how to transport all of their furniture, and she didn't have a job or an income. She didn't even have money to get the lights turned on.
So she started praying, or rather yell-ing, for help. "God, I'm talking to you, Lord, where are you?" she said. "I need some lights."
Suddenly, as she was pacing the floor, the whole house lit up, she says. She jumped back, looked up at heaven, and said to Jesus, "Well, since I got your attention …"
This is how Kisha lives. She believes she doesn't need all the answers if she has faith; it's OK to make mistakes if God will always step in to save her.
In 2009, with her husband gone for good, she reunited with her childhood sweetheart. She and Travis Dawkins had known each other since they were 14. He wasn't the kind of man she could bring home to Mama Rose—he had a long rap sheet, and never held a job for long. But this hardly made him unusual in the dating pool. As of 2001, an estimated 22 percent of black men between the ages of 35 and 44 nationwide had been incarcerated in state or federal prison, according to the Bureau of Justice Statistics.
Raised by alcoholic parents, Travis found the love he craved by hanging out with the wrong group of guys. He was arrested for the first time when he was 17, and in and out of prison his whole adult life.
But he also adored Kisha. She helped him get a driver's license, pushed him to land jobs, got him baptized in her church. His plan was to make a new start. "I didn't trust people because of my parents," Travis says now, sitting in the office of an assistant supervisor at the minimum-security Gaston Correctional Center. He has a close-shaven goatee, speaks softly, and smells of cigarettes. "I trusted Kisha."
For her part, she was just looking to have fun. She didn't worry about the long-term consequences, because she thought having kids was out of the question:
"I didn't have no children when I got with him, so I was like, 'It'll be OK,' you know."
There is a long pause. Kisha tells this story sitting on her living room couch one gray afternoon, and when she speaks again, her voice is a whisper. "It was never OK."
***
YOU COULD ARGUE that what happened next was Kisha's choice. You could argue that it was her fate. You could argue that she made the same decisions as many other women who badly want children.
In their 2005 book, Promises I Can Keep: Why Poor Women Put Motherhood Before Marriage, sociologists Kathryn Edin and Maria Kefalas interviewed 162 low-income mothers, and they noticed some patterns. Without the prospect of substantive careers or idyllic marriages, motherhood was the way these women found fulfillment. At the same time, they realized it could take years to find a stable man in their communities who was able to support a child. And they didn't want to wait for what many considered to be their greatest joy.
"Poor women consider marriage a lux-ury," Edin and Kefalas wrote. "Children, on the other hand, are a necessity."
Kisha knew this pain better than most, having suffered five miscarriages already. Lying in bed beside her, Travis would pray over her stomach. And by some miracle, the babies appeared.
Ja'Mya was born in 2010. Kisha had such bad morning sickness that she lost 19 pounds. She also lost the twin that had been conceived with Ja'Mya.
Travis was working temporary, odd jobs—security at Compare Foods, buffing floors at Food Lion. As an ex-felon, he struggled to find anything better. But he was frustrated, complaining that the contractors who hired him stopped paying him or cheated him out of his full paycheck.
Finally, he got fed up. He and Kisha made a decision. "You stay home, you take care of the babies, and I'll just work," she told him.
Why did Kisha have a child with a man who couldn't support her? "At first it wasn't a choice, [I] was just grateful that it happened," she says of Ja'Mya's birth. Then she thought: This ain't gonna happen again.
ZaZa was born early and underweight, and caught a serious respiratory virus at two weeks old. Kisha was cleaning church buildings, never earning enough to make ends meet. She began using birth control, realizing that the future of her family could not be left entirely to fate. The family was homeless for a while, living with Travis's mom or hers, then with Mama Rose.
They moved into their house in east Charlotte just before Mother's Day in 2013. The landlord, a friend of the family, paid their gas and water bills. Travis did maintenance on her other properties—cutting grass, replacing glass in bathroom mirrors—to help pay their rent. It wasn't easy, but Travis remembers this as a happy time. "We had each other," he says.
Kisha remembers the stress. She was working 5:30 a.m. to 7 p.m., scrambling to support the whole family. Then, a month after they moved into their new home, she discovered she was pregnant again. What had started as a fling had turned into something else. Now a man who had never had a steady job was the father of her three children.
She did what she thought was right. She married Travis in November of that year. At her church ceremony, at Macedonia Missionary Baptist Church in Midland, she wore a wine-colored dress and a smile that was as big as her belly. Looking at the wedding photo on her mantel, Kisha says it was "one of the happiest days of my life.
"It was awesome; it was so amazing. It just felt like it was the right thing."
The euphoria didn't last. Kisha started having contractions far too early in her pregnancy and had to stop working. When Tyasia, her youngest daughter, was born in January 2014, she suffered severe postpartum depression and was in constant pain, recovering from her third C-section. The family was desperate for money.
Then an electric bill arrived. If they didn't pay $800 to $900, their lights would be turned off. The landlord didn't have any more work for Travis, and the family had exhausted its funding for the year from Crisis Assistance Ministry, which had helped with rent, electricity, and gas bills in the past.
Travis looked at his newborn, his one-year-old daughter, his toddler, and his sick wife, and made a decision.
"You know what?" he told Kisha. "I'm the man, you the woman, I just gotta do what I gotta do."
He drove to a house in east Charlotte, near W.T. Harris Boulevard and Idlewild Road. At first, he almost decided not to go through with it. He knocked on the door and walked away twice before convincing himself to break in. The police report says his whole haul was worth $6,150—a couple of flat-screen televisions, a laptop, a tablet, a PS3 gaming system, jewelry. Travis was planning to sell the items to pay his family's bills.
"I regret that decision every day, but that's something I have to live with," he says.
He pleaded guilty to charges of breaking and entering and being a "habitual felon."
On his first wedding anniversary, November 17, 2014, he was convicted and sent to prison.
***
WHEN THE EVENING phone call with Travis ends, Kisha sinks into the living room couch, exhausted. There's a toddler-sized pink table and chairs in this room, along with a white toy car large enough for a child to ride in. Family photos crowd the mantel over the fireplace, including Kisha's wedding photo and several shots of her smiling girls.
The girls bicker, loud and crashing around the living room. Kisha sends them to a back room to watch television with their grandmother, who lives with them and helps take care of the children. "After being on your feet for nine hours, that's the last thing you want to come home to," Kisha says.
Each child gets to visit her dad once a month, she explains, but Ja'Mya goes at least twice, because she took his absence the hardest. She had to see a therapist and receive counseling for separation anxiety.
As Kisha explains this, Ja'Mya interrupts her. "Look, Mommy," she says. "I write that for Daddy; I write this letter for Daddy."
"He's gonna love it!" Kisha gushes.
She turns back to me. "I don't have the privilege of some women, you know, when your kids are so little you get to stay at home and do all the nurturing," she says. "So it's like when I get home I'm tired, but at the same time I know I have to give them their part of Mommy."
During the school year, she leaves at 5:30 a.m. for her part-time gig driving children who are homeless or have special needs to Charlotte-Mecklenburg schools. While she's gone, her mother wakes up the girls and readies them for school and day care. Kisha tries to get back from work in time to help wash and dress them, comb their hair and pin it back with bows she buys for a dollar a bag. The girls like to feel pretty, and for Kisha, their appearance is a point of pride. "We ain't got a lot, but I just don't want them to look like what we go through," she says.
Between 11 a.m. and 1 p.m., she heads out to her second job, providing in-home health care. Then she's back by 5:30 p.m. to give the children their dinner, baths, and medicine—all the children suffer from various allergies and asthma. The family relies on food stamps, Medicaid, WIC, and subsidized day care. Kisha is many months behind on rent, but her landlord lets her pay what she can. Sometimes she takes anxiety and blood pressure medication to help her deal with the stress. She took the job at Mighty Midget Mart for a short time in July because she doesn't drive the school van during the summer.
There is a lull in our conversation, and Ja'Mya peeks her round face back into the living room. "You finished talkin'?" she asks.
"Not yet, Boo Boo," Kisha responds. "I'm almost finished talking."
"I LOVE YOU, MOMMY!" the little girl shouts as she walks away.
"OK," her mom replies. "I love you, too."
***
ON THE MORNING of ZaZa's third birthday in late July, Kisha is rushing to get the girls ready for church. Ja'Mya walks by the front door wearing nothing but her underwear and yelps when she sees me. "I'm like a chicken with my head cut off this morning," Kisha apologizes.
Her hair is short and natural today, paired with a long sundress. After church, she's throwing a birthday party, which means she has to pack picnic supplies. Walmart bags full of chips and ketchup and mustard line the trunk of the van. The girls sit in the backseat with the windows and doors open while they wait for their mother to join them.
Finally, she pulls the van door closed and drives east to Macedonia Missionary Baptist Church. In a modest building with a plain, wooden cross and stained glass depictions of a brown-skinned Jesus, nearly everyone seems to know Kisha. Her biological mother makes announcements about Vacation Bible School, and Mama Rose sings with the choir. Kisha drops an envelope into the collection plate even though she's still behind on rent.
During the service, women flap hand-held fans in the pews and the pastor says "amen" at the end of nearly every sentence. Kisha responds often: "Yes, Jesus, amen."
Now she's standing and clapping as the Reverend Henry Sterling reaches a crescendo in his sermon. "Whatever you're going through, God will—He'll bring you through," he says.
"Thank you, Lord!" Kisha shouts back at him.
She believes God will help her. What other choice does she have? "I am a woman of faith, first and foremost," she says the first time we meet. "That's the only way I can make it."
The day after ZaZa's party, Kisha's mood is darker. She spends hours crying, paralyzed by the fear that by turning three, ZaZa will age out of her subsidized child care.
The problem is later resolved—Kisha's income qualifies Zyauna for subsidized daycare, even though she can no longer receive speech therapy and other special services—but it brings out some of Kisha's worst anxieties. What if her mom was no longer available to help with the kids, or something happened to her kind landlord?
How could she take care of the girls?
"Income-wise," Kisha begins, and there is a long pause while she gathers herself to finish the sentence, "unless I work day and night …"
Her voice drops to a desperate whisper as she holds back a sob, "I wouldn't be able to take care of them."
***
MONTHS PASS. Ja'Mya turns five and starts pre-kindergarten. As summer turns into fall, Kisha thinks about how the girls need a stable father figure in their lives, and how she needs help providing for them. She begins to dwell on Travis's flaws—he's insecure, and can be manipulative. In the space of three hours, he tries to call her on the phone more than 40 times. It's overwhelming. "He was mentally and emotionally abusive," she says.
She tries, repeatedly, to tell him their relationship is over, but he refuses to accept it. In October, she finally informs him that she has been on a few dates with another man. This crushes Travis, but Kisha isn't doing it because she doesn't want to end up with Travis. She does it because she wants him to "completely change."
"I had to begin to take control back of my life," she says.
She meets with a counselor she'd been seeing on and off since March, and decides to cut back on her anxiety medication. She keeps bringing the girls to visit their father, but she no longer gives as much of herself to him. For a while, there's a sense of strength, rather than panic, in her voice.
Just after 10 a.m. on November 17, her second wedding anniversary, she's sweeping the floor in her living room. Gospel music plays on the radio. The girls are at school and day care, and Kisha has already spoken to Travis today. She says they kept the conversation short and light. He told her he was worried about providing Christmas gifts for their daughters. Kisha's worried, too.
Sitting down at the kitchen table, she recounts the latest money troubles: Her car is acting up again, and the mechanic told her it will cost $1,300 to fix a cracked gasket on her engine. "I'm praying for a new car now," she says.
She also recently learned that her Medicaid coverage (not the girls') is ending because she earns more than $600 a month. But she can't afford the $200 a month it would cost to buy insurance under the Affordable Care Act. North Carolina is one of 20 states that, as of December, had refused to expand Medicaid to cover people who fall into this income gap, according to the Kaiser Family Foundation. Now Kisha is having stomach troubles and can't go to the doctor. "What can you do?" she says. "If I'm not healthy and I'm not OK, how am I supposed to take care of them?"
Still, she's trying to look forward. Kisha is 12 credits short of a college degree in human services, and has long talked about starting a nonprofit to help former felons and their families. Now she's working on writing a vision statement for the group, One More Chance, and looking for locations on the east and west sides of the city to house the organization. Her idea is that people will donate housing, and ex-felons can live and work there—fixing up the homes, cleaning, working in a mechanic's shop, or performing other necessary tasks—instead of battling for jobs in a marketplace that often excludes them.
Resting her forehead on her hand, she seems both exhausted and excited about these plans. She doesn't have the money to do it yet; she can't pay for Thanksgiving or Christmas, either. But her faith—the same belief that brought her to Travis, gave her three little girls, and has kept her going despite all the odds stacked against her—is as strong as ever. "One day," she says, "I'm not gonna have to worry about this."
Lisa Rab is the articles editor for this magazine. Reach her at lisa.rab@charlottemagazine.com or on Twitter: @lisayrab.
HOW TO HELP KISHA DAWKINS: One family's story led many readers to offer assistance. Read more about that here.
---
This article appears in the February 2016 issue of Charlotte Magazine
Did you like what you read here? Subscribe to Charlotte Magazine »
---