Prepare for Fall Planting
Make sure you're ready when the weather starts to change with these upcoming learning opportunities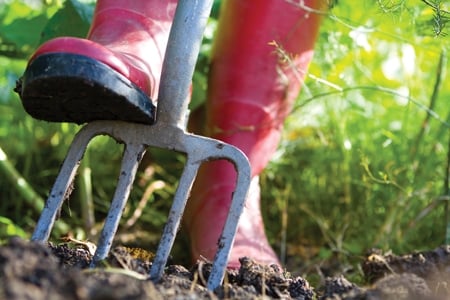 In Charlotte, we're fortunate that area farmers and gardeners are so generous with their time. This month, they share their tips for planting, propagating, and preserving just in time to put that advice to work in your fall garden.
The Mecklenburg County Cooperative Extension continues its year-long Sustainable Living Series with two classes this week. The Dehydrating class on Wednesday, August 12, from noon to 2 p.m. shows participants one of the oldest forms of food preservation. Learn how to dehydrate fruits and vegetables and what to do with them once they're dried. Cost is $10. Then on Thursday, August 13, receive instruction from Mecklenburg County Extension Master Gardeners during Plant Propagation – From Seeds to Cuttings: How to Get Growing. Learn the fundamentals of seed sowing and propagating. Then stay afterward for a Q&A session where the gardeners will answer personalized questions. Cost is $5. Later in the month the Extension offers an evening workshop on How to Build a Raised Bed. Participants will receive a printed plan and materials list. The workshop is Thursday, August 20, from 5:30 p.m. to 7:30 p.m., and the cost is $10. And on August 26, from noon to 1:30 p.m., for the final class of the month — Fall is for Planting: Get Your Garden Growing —Extension Master Gardeners teach gardening basics, such as soil preparation, planting dates, garden layout, harvesting techniques, and vegetable selection. Cost is $5. Advanced registration is required for Sustainable Living classes; click here to register.
At Renfrow Farms in downtown Matthews, former NC Cooperative Extension agent Jeff Rieves will teach two classes titled Good Soil: A Gardener's Guide to Soil Testing. On Tuesday, August 18, the class runs from 6:30 p.m. to 8:30 p.m.; then on Wednesday, August 19, the class is from 10 a.m. to noon. The cost is $20 per person or $30 for a couple. Children younger than 16 years old are free with a paying adult. More details here.
Pike Nurseries in Ballantyne holds free gardening classes regularly that require no prior registration. This month's topics are Gardening Basics for Kids and Gardening for Beginners. In the kids' class on Wednesday, August 19, at 1 p.m., children will learn about gardening and plant a seed to take home. Then for the adult class on Saturday, August 29, at 9 a.m., attendees will learn how to determine soil type and the amount of sunlight an area receives, what to consider when choosing a plant, and general planting and watering information. Click here for further details.
On Thursday, August 20, Windcrest Farm in Monroe presents Planning the Fall Garden. Mary Roberts will lead visitors around her Certified Organic farm and give advice on rebuilding, replanting, and relaxing in the fall garden. She'll discuss certain plants that work well in the fall, the use of cover crops, and steps to take to winterize your garden and ensure it'll be ready come spring. The class is from 6 p.m. to 8 p.m. and costs $15. Click here to register.