Prepare for the Chill
As colder temperatures sweep in this week, make sure you, your home, and your yard are ready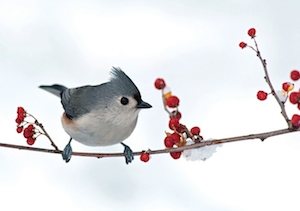 The next couple of days bring high temperatures in the 30s and lows in the teens. We pulled together some tips from Charlotte Home + Garden to help you prepare for the cool down.
Care for your feathered friends. Birds are affected by colder temperatures, so help them out by making simple additions and adjustments to your yard. A roost box with an entry at the bottom creates a warm stopping point. Suet, a mix of fat, seeds, nuts, and fruit, provides needed nutrients. (Click here for a make-your-own recipe.) Fresh water is sometimes hard for birds to come by when temperatures drop below freezing. Keep an eye on birdbaths, and consider purchasing a deicer to keep the water from freezing. (For three local resources where you can stock up on supplies, click here.)
Prepare young plants and winterize outdoor facilities. Established shrubs and trees don't generally require protection, but young plants may need to be covered with a sheet or pop-up greenhouse. If you have an outdoor kitchen or sink, make sure the lines are well insulated or drained to avoid busted pipes.
Spread out a coverlet or quilt. Autumn colors, such as brown, mauve, and cream, give your home a seasonal look. Fabrics such as cashmere, silk, and wool offer a comforting feel on chilly nights. Abode Home Design, Isabella, Cottage Chic, and Bedside Manor are all local spots to search for a new addition to your blanket chest. (Photo by Chris Edwards)
Put on a pot of something warm. Gumbo takes time and patience, but the result is worth the effort. Prepare this New Orleans classic on a Sunday afternoon, and you'll have leftovers for lunch or a busy weeknight. Andouille sausage, a rich roux, and a pinch of cayenne make this version from e2 Emeril's Eatery a good choice. (Photo by Logan Cyrus)