Preparing for Florence, an Unpredictable Monster
Charlotte's not used to a storm like this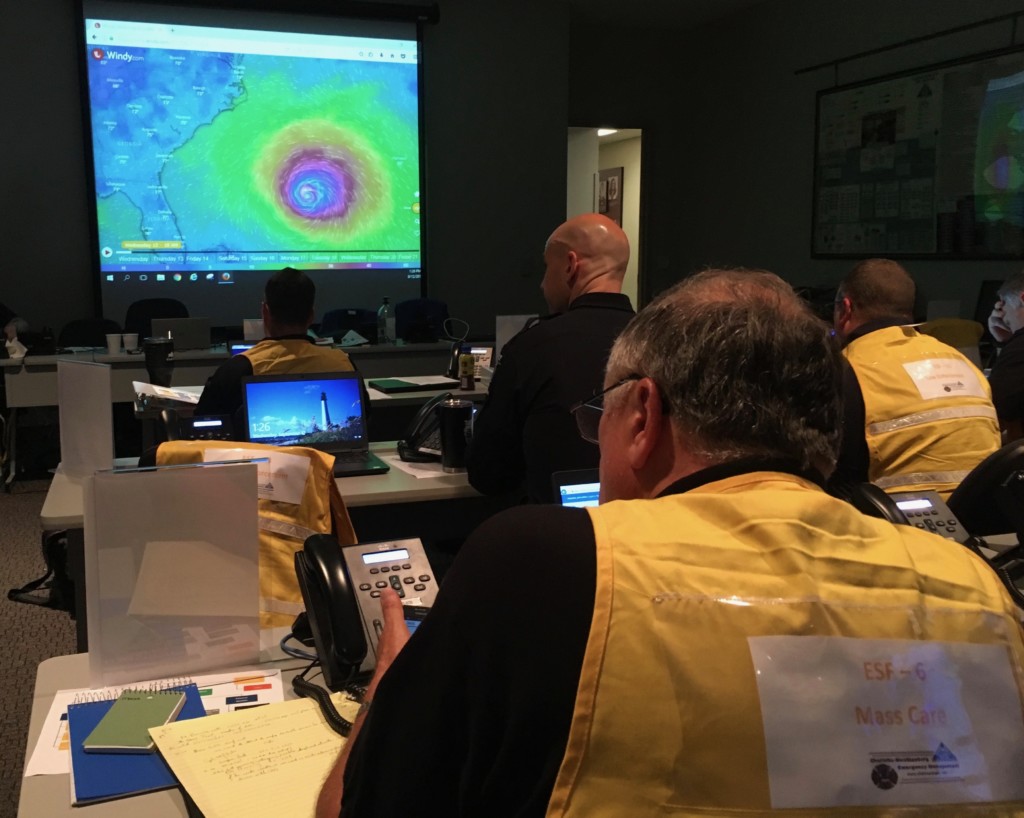 Inside Room C2110 at the Emergency Operations Center on Wednesday afternoon, roughly 25 people wearing vests of varying colors intently eyed their smartphone and laptop screens and made grim-faced calls. "I don't want to bother CMS police," one said, "because of all the football games tonight." The games had been rescheduled.
The light in the room was dim, matching the low hum of muttered conversation. Colors flashed from projections on five big screens against the walls: The Weather Channel ("Florence: Storm of a Lifetime," read the chyron), CNN, and, up front, windy.com, which displays a live graphic illustration of winds, their intensity delineated by color. No one fixated on the pinwheeling monster in purple, mauve, and bright blue at the bottom right of the screen; no one needed to.
The EOC, housed in the comma-shaped building off South Tryon Street where both police and firefighters train, opens rarely, which is why it had set up in what's normally used as a classroom. "I mean, it's really like once every few years," said Charlotte Fire Department Battalion Chief Rob Cannon, a 21-year veteran who was, as of Wednesday, six days from retirement. He chuckled and shook his head. "So I'm going out with a hurricane."
When Charlotte faces a potential natural or manmade disaster, the Charlotte Fire Department becomes the lead emergency management agency, and fire officials shift into their emergency management roles. Deputy Chief Kevin Gordon becomes emergency management director for the city and county. Cannon becomes the public information officer for emergency management. They have to corral all the agencies and people who might have a hand in any response to the storm that approaches, from possible swift water rescue to coordination of shelters for evacuees and locals flooded out of their homes. On Wednesday, that's what was happening. The center had opened at 8 a.m. and would stay open until 6 p.m. Beginning at 8 a.m. today, it began around-the-clock operations, Cannon said, "until this is over."
This is not something Charlotte has to contend with often. This isn't a coastal county such as New Hanover or Onslow, where emergency operations means, almost by definition, preparation for hurricanes and tropical storms. Here, emergency operations peak during the city's periodic ice storms, which carry similar risk of power outages and the added dangers of people either freezing to death or poisoning themselves by lighting charcoal fires indoors to keep warm. The last time the EOC geared up to this level, Cannon said, was during the winter storm of February 2004, when a foot of snow fell on Charlotte. He wasn't around for Hurricane Hugo in 1989, forever the point of reference for Charlotteans who might otherwise delude themselves into thinking they have nothing to fear from hurricanes, surely not this far inland.
Leigh Kish, who normally tours Charlotte-Mecklenburg Schools to instruct students on fire and safety procedures, was on hand in the EOC Wednesday after CMS had closed its campuses. She and another educator, Amy Rea, were on their way out the door when Cannon grabbed them and told them to hang tight in case they were needed for something else. They understood. Kish was nine when Hugo hit. "For those of us who were here for Hugo," she said, "it's a reminder that, 'Oh, it can come here.'"
The order of the day was coordination, conference call after conference call. "All right, we've got about 15 minutes before the shelter call," announced retired CFD Captain Tony Bateman, in charge of EOC management. "So if you want to grab some Nabs and RC …" The call began at three with representatives from the city and county manager's offices, law enforcement, United Way, county Health Department, American Red Cross, Crisis Assistance Ministry, CMS. The plan was, for now, to open five shelters on school campuses, the list made easier to remember by the helpful mnemonic ANOSE: Ardrey Kell, North Meck, Olympic, South Meck, East Meck. "The shelters are really for moving people inland. Evacuees," Bateman tells me. "They have to have somewhere to go."
But that raised the difficult prospect of providing food and shelter to evacuees from the Coast when Charlotte itself might turn into a crisis area. By Wednesday, Florence had become not just a frightening storm but a profoundly frustrating one. The predictions, reflecting the unpredictability of the storm, wobbled all over the place. On Monday, the center was still projected to turn north toward Virginia once it made landfall. By Wednesday, the projected path had altered, dipping to a path due west, then southwest and due west, which given its size meant as much as a foot of rain in Charlotte. Or the forecast could shift again.
It's a given for emergency planners to prepare based on incomplete or fluid forecasts. But these were wiping away everything that had come before. "Right now, we're not really sure where Florence is going to end up," Fire Chief Reginald Johnson told me. "The rain we're getting here is already saturating the ground. So you start adding 30, 35-mph sustained winds on top of more rain, we're going to see a lot more trees down, going to have power lines down … Any curveball that comes, we'll make sure we're able to overcome it."
Yet there's always a curveball, something you never anticipate. "Storms do weird stuff," Cannon said. He would know. A recently retired lieutenant commander in the Navy Reserves, Cannon was dispatched to Norfolk, Virginia, during Hurricane Katrina in 2005. He thought he'd go to New Orleans. Instead, the Navy assigned him to work logistics. His job was to figure out how to ship thousands of gallons of gasoline and diesel fuel to the Gulf Coast with highways damaged or blocked and shipping lanes clogged with storm debris. And the fuel was just for Naval vessels and vehicles, he said, not even for residents. "I did that for a month," Cannon said. "It just reminds you that, OK, in that situation, getting a cookie down there can be tough. Everything you take for granted can get tough in a big storm."
You plan for what you can. The Fire Department stores its swift-water gear—boats, ropes, hooks, wet suits—in a warehouse a couple of miles from the EOC, stressing at the same time their deep desire to not have to use any of it. That was the planners' primary worry Wednesday, that people wouldn't heed the "turn around, don't drown" warnings, try to drive through moving water, and endanger themselves and the people who have to rescue them. A secondary worry was, incredibly, trolls on social media, spitting up false maps, false forecasts, and urban legends "just to be a pain in the ass," Cannon said. It's easy to be complacent when you gaze out your window and see good weather for taking a bike ride or walking your dog. It's even easier when you live in a city unaccustomed to the winds changing so suddenly.
So until whatever hits hits, the people at the EOC wait, adjust, hope, and plan. "We are playing this almost hour by hour as this thing changes," Cannon said. "But we have everybody here." He grinned. "Now, our biggest concern—it's super-important, maybe the most important thing …" He gestured toward a recessed pantry at the back of the room, which held a Bunn coffeemaker and a half-full pot.