Pretending It's Fall
It's not a lot of work to get your house smelling like late October.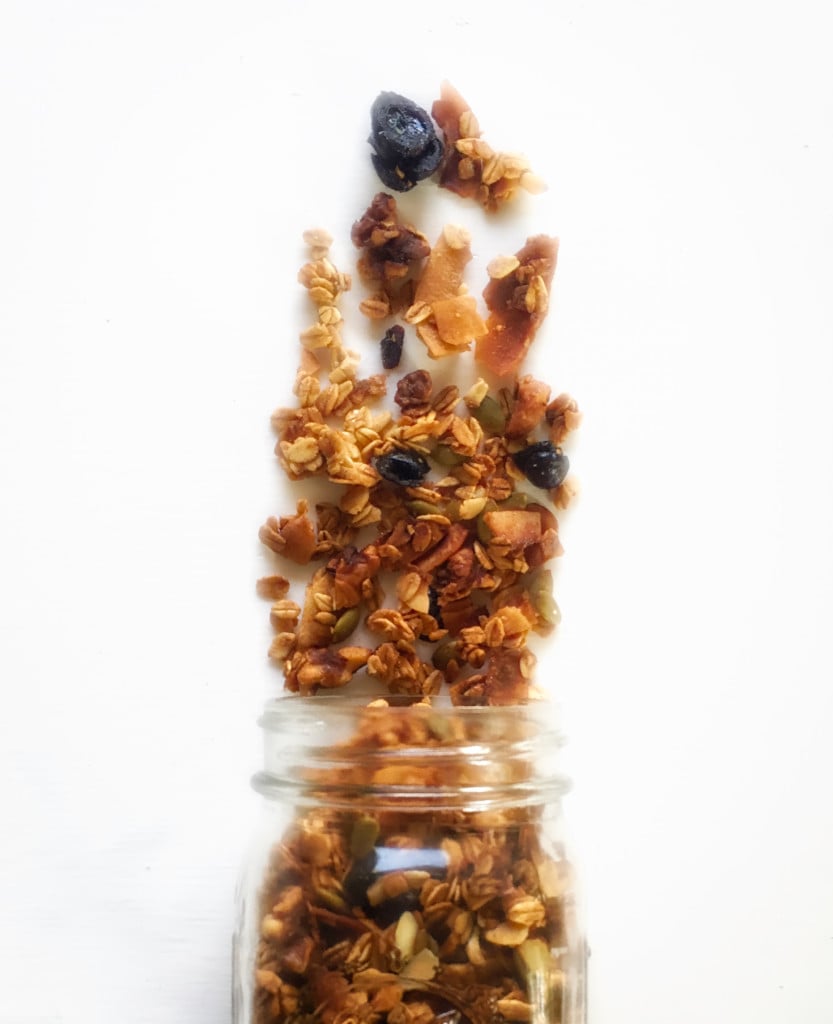 Early September in the Carolinas is a strange sort of limbo. School is back in session. Regular routines have been reinstated. The days are noticeably shorter.
And yet.
It is still 92 degrees out. The leaves on the trees are still green, albeit a tired one. You can still break a sweat walking to get coffee or lunch.
My mind and my heart are standing in front of a bonfire, or an apple pie that just came out of the oven. Somehow, none of that feels quite right yet, like putting on that new sweater and those suede boots you bought too soon. In the Carolinas, it feels like we have to ease into fall.
One way to do that in the kitchen: granola. It's not a lot of work to get your house smelling like late October. Fifteen minutes and a couple of mixing bowls is all you need and, in the end, you also have a delicious snack or breakfast. This is provided that you don't do what I do and eat a lot of it straight from the baking sheet.
I make granola when the mood strikes, or when I have a bunch of random things in the pantry that need to get used up. The recipe below is flexible; you'll probably want to experiment a few times to get it to your liking. The nice thing about making your own granola is having that control. I, for instance, despise granola that is overly sweet, so mine is fairly light on sweetener. If you prefer yours on the sweeter side, you may to add a little more than what I've given here. Some other tips before we get to the recipe itself:
Use good-quality rolled oats (not quick-cooking oats). I recommend Bob's Red Mill.
Shoot for 1 cup to 1 1/2 cups of nuts and seeds. I usually use a combination of pepitas and pecans. Walnuts, almonds, pistachios, and sunflower seeds also work. You can also sprinkle in things like hemp, flax, or sesame seeds.
I've personally had the best results with grapeseed oil, but you can use any neutral oil, or try a high-quality olive oil or melted coconut oil for added intrigue and health benefits.
The agave can be replaced with maple syrup, brown rice syrup, or honey.
You can omit the brown sugar and use more liquid sweetener instead. I like the brown sugar because it adds a certain sharpness and depth that you just can't get from honey or agave.
Parchment paper makes for easy clean-up.
You can omit the egg white, which helps bind the granola for those who like it in chunks.
The coconut flakes here are wide strips of dried, unsweetened coconut. Skip the pre-sweetened stuff.
Play around with the flavors. A pinch of cloves or cardamom could be interesting. I sometimes use almond extract instead of vanilla (usually with dried cherries).
Basic Granola Recipe
3 cups rolled oats
1 cup nuts, chopped if purchased halved or whole
1 cup coconut flakes
2 tablespoons brown sugar
½ teaspoon sea salt
1 teaspoon ground cinnamon
Pinch freshly ground nutmeg
¼ teaspoon ground ginger
1/3 cup grapeseed oil
1/3 cup agave syrup
1 teaspoon vanilla extract
1 egg white (optional)
1 cup dried fruit, such as blueberries, cranberries, or apples
Preheat oven to 300°. Mix all dry ingredients except for the dried fruit in a bowl. Set aside.
Whisk oil, sweetener, and vanilla extract together in a separate bowl.
If you are using the egg white, whip it with a whisk in a small bowl until frothy, about 90 seconds.
Add the oil and sweetener mixture to the dry ingredients. Stir with a spatula until the mixture is coated, then add the egg white and stir again.
Spread the granola evenly onto a baking sheet with a rim. Bake for 35-45 minutes or until a golden brown, stirring every 15 minutes. Do not stir if you prefer chunks of granola, but consider rotating the pan 180° about half way through.
Remove baking sheet from oven and allow to cool. If you didn't stir the granola, break the granola up using your hands. Transfer to a bowl and add dried fruit. Store in an airtight container until use.