Preview of 15th annual Charlotte Oktoberfest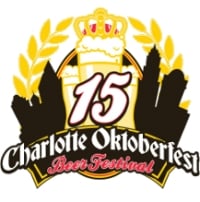 Next Saturday (Sept. 28) marks the 15th annual Charlotte Oktoberfest, one of the best festivals not only in the state, but also nationally. That's evident by the Web site www.drinkinginamerica.com, which just named Charlotte Oktoberfest as one of the top five fall beer festivals, right up there next to the Great American Beer Festival in Denver.
Heavy praise, but also well deserved. Oktoberfest is the longest-running beer festival in Charlotte and has come a long way since the inaugural one at Independence Park. The original festival was a collaboration of Johnson Brewing Company and the Carolina BrewMasters, a local homebrewing club. When Johnson had to close its doors, CBM took over and has been running it for 13 years now.
This year, more than 100 breweries will be on hand at the N.C. Music Factory (more on the festival's new location in a minute), and attendees will have the opportunity to sample 350 beers (though it's not suggested they try all).
"It's our 15th anniversary, so this year the organizing team sat and looked back at all our past events," said Cesar Leyva, director of marketing for the festival. "We looked at surveys, e-mails, tweets, blog posts—really everything—and took what people have enjoyed the most and tried to incorporate that into this year's Oktoberfest."
All of Charlotte's local breweries (including Birdsong, Four Friends, Heist, NoDa, Olde Mecklenburg and Triple C) will be pouring at the event, along with two newcomers: Lake Norman Brewing Company and The Unknown Brewing Company.
"A lot of breweries use the Charlotte Oktoberfest as their launching pad to the world, and this year is no exception," Leyva said. "And as always, I'm excited to see local Charlotte breweries at Oktoberfest, but I also look forward to seeing beer from across the state that usually doesn't make its way to Charlotte, including Four Saints, Frog Level, Fonta Flora and Beer Army Combat Brewery."
As stated earlier, Charlotte Oktoberfest also has a new venue, moving from the Metrolina Fairgrounds (where it was held the last four years, including a muddy 2012) to the N.C. Music Factory. As I wrote about in July, there are numerous benefits for relocating the festival, and Leyva agreed.
"It seemed like a perfect fit for the event," said Leyva of the N.C. Music Factory. "Great access, free parking, great options for pre- and post-Oktoberfest distractions and the proximity to uptown added to the benefit.
"I'm also excited about the layout of this year's festival. It's a more intimate space, but at the same time breweries and vendors won't be limited. This means you can still enjoy all the different craft beers; you just won't have to walk as far to the next (station)."
And while beer is the main focus, Charlotte Oktoberfest also offers many other activities. Live music will be provided by SugarSmaX and Southern Culture on the Skids (of "Camel Walk" fame). Once again, Creative Loafing will have its Beerlympic Village featuring table tennis, foosball, cornhole and other games. And there will be food vendors on site to help balance out all that beer sampling.
Charlotte Oktoberfest and Carolina BrewMasters have long been supporters of local charities as well, donating nearly $300,000 through the festival's history. This year is no different, as the 2013 beneficiaries are Second Harvest Food Bank of Metrolina, Classroom Central and Project HALO. Local beer podcast Cheers Charlotte is also highlighting each charity over its next couple of shows.
Tickets (cost for the festival, which runs from 2 p.m. to 6 p.m., is $40) are still on sale, but I'd get yours sooner rather than later. At the time of this writing, there were less than 300 left. This link will take you to the ticket site.
And Leyva's advice for festivalgoers?
"Get there early, drink lots of water and take notes on the beer you try," he said. "And don't drink in a hurry. There will be plenty of beer to go around—take time to enjoy each one. You may even discover a new favorite."