Preview: Sukoshi, the New Fast-Casual Spot from the O-Ku Team
Sushi spot slated to be open in uptown by Christmas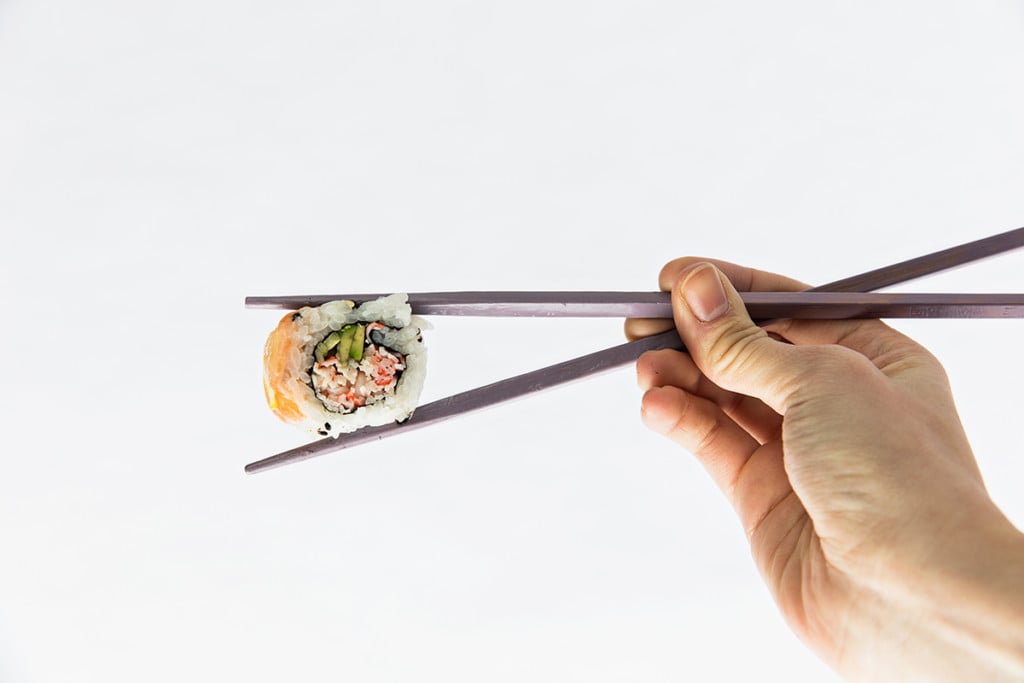 LOCATED A FEW STEPS from Bank of America Plaza (right next to Eddie V's), Sukoshi is primed and ready to offer authentic sushi to uptown's on-the-go crowd. Here's what you need to know about the new eatery from Indigo Road Restaurant Group ahead of its opening later this month.
It's the kid sister of O-Ku. Sukoshi is to O-Ku what Ilios Crafted Greek is to Ilios Noche. Think high-quality sushi, but in a fast-casual setting. Executive Chef Michael Chanthavong brings favorites from his menu at O-Ku, so guests can order a tuna wrap-it-up roll or the salmon citrus roll at the counter. The counter will have two lines—one for the grab-and-go customers, and one for made-to-order meals. The 1,780-square-foot space accommodates 25 to 30 guests, but of the 400 people expected to pass through on a typical day, most will likely take their sushi to go.
Sukoshi is the Japanese word for "a tiny bit." The "Little Bites" section of the menu offers made-to-order items like Yum Yum Dim Sum ($7) and Sukoshi Shrimp ($12). The "Big Bites" side has items like Sake to Me ($13), Uptown Chicken ($11), and Kuro Magic ($13), which all come with your choice of mega maki, a rice bowl, or greens. Behind the counter, you'll also notice a machine churning frozen yogurt. That's courtesy of the Atlanta-based High Road Craft Ice Cream, and their miso salted caramel soft serve is so good that a "tiny bit" probably won't cut it.
The display case is stocked. Grab-and-Go meals fill the food display case, where customers can pick up a box of Pow Pow Cali Rolls, or the Fugo Lobster Rolls to take back to the office. Boxes cost between $8 and $18, unless you come for Half-Off Sushi Happy Hour from 5 to 7 p.m. daily. Customers can also grab a cold beverage—Sukoshi will carry the Rewind Lager from Birdsong Brewing Co., as well as canned wines and two different sakes. Non-alcoholic options include Sunshine Energy Drinks (a company based in Winston-Salem) and Ramune Soda, a popular line of drinks from Japan that resemble a fizzy, non-alcoholic sangria.
If there's room, you can grab a seat and stay awhile. For $30, diners can opt for the Omakase, which is a Japanese term that means "I'll leave it up to you." It includes three to four courses of chef's selections, and it's available at lunch and dinner at the three-seat sushi bar. And if you're short on time, Sukoshi plans to unveil a custom mobile app for online ordering, and they'll offer delivery in the uptown area.
There's sushi swag. On both sides of the food display case are shelves with accessories and trinkets from Sukoshi—here you'll find T-shirts, wrapping paper, insulated coolers, stress ball pandas, and even portable chopsticks all available for purchase. Architect and designer David Thompson and Jennifer Krapp of the Indigo Road Restaurant Group wanted the space to have a fun, high-energy pace with a "cheeky" aesthetic, and the result is just that. The wallpaper is splashed with images of oversized pink and purple sushi rolls and fish tails, and the tables have ceramic chopsticks holders in the shape of little panda figurines.
Sukoshi plans to open its doors before Christmas. Hours will be 11 a.m. to 8 p.m. Monday through Saturday, and noon to 6 p.m. on Sundays.