Prohibition: Part Speakeasy, Part Popular Dance Club
Party like it's 1920 at this uptown bar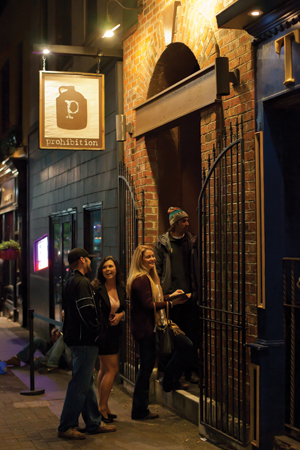 What: Prohibition
The 411: This already-popular bar, which opened in February, is in the former second-floor space of The Attic on the corner of Tryon and Fifth streets.
Vibe: Prohibition's narrow entrance staircase, which leads to a semi-enclosed balcony, gives the bar its speakeasy-meets-underground-nightclub feel. Inside are dark wood floors and walls, with most of the light glowing from flat-screen TVs and classic beer signs. A long bar runs about two-thirds the length of the space. Across from the bar, old-school arcade games like Ms. Pac-Man, Galaga, and Kiss Pinball add to its nostalgic vibe.
What sets it apart: Cheap drinks! Froget the craft-beer craze—this place is all about the standards. Plus, there are nightly specials, such as Two-for-One Tuesday, which you can enjoy while perusing the Prohibition-era quotes that line the walls (yeah, right). For the binge drinkers out there, Prohibition also features two Draft Tables (thedraftmaster.com), where groups can order half kegs of beer and pour their own glasses from the tap.
Who's there: The twenty- and early-thirty-something crowd is coming in droves to this place. A DJ plays at least four nights a week, and on the weekends Prohibition is often packed to capacity from the dance floor to the balcony.
Where: 200 N. Tryon St.