Prosperity Village Seeks an Identity Among the Roundabouts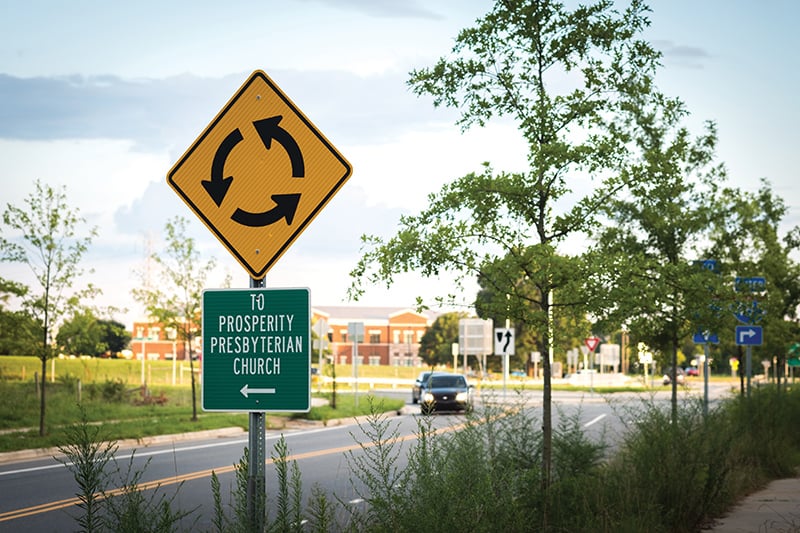 A PICTURE WINDOW on a back wall behind a small full-service bar frames a tree outside—a cool, green backdrop to the contemporary décor at Pangea Tapas Bar & Grill. The scent of Caribbean-inspired fare on the open grill greets diners as they walk in, while the glass-doored wine cellar and background jazz music radiating from speakers hint that this must be in one of those hip neighborhoods in the city.
So it's somewhat of a surprise to find it way out here in Prosperity Village, a foodie desert on the northern arc of the 485 loop that just might turn into something more if city planners, neighborhood advocates, and a restaurateur have their way.
Its name comes from Prosperity Church, a congregation founded in 1789 and a fixture at its present spot since 1795, with graves of Revolutionary and Civil War veterans as well as a slave cemetery on its grounds. The Village wasn't even a village until the Charlotte City Council adopted something called the Prosperity Hucks Area Plan in 2015. The idea was to transform this mostly nondescript expanse of middle-class subdivisions in north Charlotte and a portion of neighboring Huntersville—diverse, full of transplants and teeming with kids—into a cohesive hub complete with retail, apartments, and office space.
The inspiration for the plan was the long-awaited completion of 485. For years, as the population exploded, residents endured a tedious drive through neighborhoods and on overburdened back roads to get to the rest of the city. In 2015, the state finally finished that last leg of the loop between Interstates 77 and 85 in north Charlotte, connecting Prosperity Village.
There's only one small problem: Good luck finding your way around this place. Those who dare to take the 485 exit for Prosperity Village immediately enter Siri's nightmare—six roundabouts that parallel the highway, all of which can make navigating the Village exasperating.
There is some logic behind this maddening design, the daily confusion among uninitiated drivers notwithstanding. The roundabouts disperse traffic and help create a walkable grid for the planned growth. They have already become the defining physical feature of the Village, and city funding will pay for commissioned art and possibly more trees, sidewalks, and other upgrades along the service roads that connect the traffic circles.
Developers have noticed. A Publix arrived last year, and a movie theater is planned to replace a Bi-Lo that recently closed. New apartments near the Publix are now leasing and more are planned.
"I think the reason we're seeing that whole area getting more attention and more building and more people coming in is just simply an access issue,'' says Mark Ramsey, owner of The Ramsey Group, who has been selling homes in the area since 2003 and has watched the area boom since the completion of 485. And those eight free lanes may even inspire commuters in Huntersville and Cornelius desperate to get away from the I-77 toll road fiasco to consider Prosperity Village, he says.
What you won't find beyond the hubs and spokes in Prosperity Village are many higher-quality, locally owned restaurants. No wonder people seeking something more than chains and kid-focused fare came out by the thousands the last two years for monthly food truck rallies that were held in a parking lot from April to October.
Chain establishments continue their inevitable creep into the Village. City Council, led by District 4's own Greg Phipps, recently voted in favor of developers (and against the Prosperity Hucks plan, the city planning staff recommendation, and Prosperity Village Area Association) to allow a Chick-fil-A drive-thru at what was originally designed to be the center of the walkable hub. Residents fear it will instead become a traffic nightmare.
Says Wil Russell, former land use chair of the association and a Villager who challenged Phipps and lost in the primary, "You've got a dedicated group like the PVAA saying, 'No, this needs to be an urban center, not a truck stop.' ''
Now there's more hope. Kirk Young, a Wells Fargo corporate investment banker who lives in the massive Highland Creek development that dominates the area, gambled on opening Pangea here instead of in one of the trendier neighborhoods in the city because he knew there were so few options for those seeking adult fare with a drink or decent glass of wine. Young wants to make Pangea a destination with live music on weekends, when the bar is open until 2 a.m.
"There's also a lot of young folks out here,'' he says. "They want something to do. A lot of them are driving uptown, driving to NoDa, driving to get their entertainment fix. If we can bring it closer to them where they don't have to make that trek, maybe it works."