Protesters Remember Danquirs Franklin, Object to CMPD's Use of Force
Nearly a hundred gather peacefully in Marshall Park after footage of officer-involved shooting was released yesterday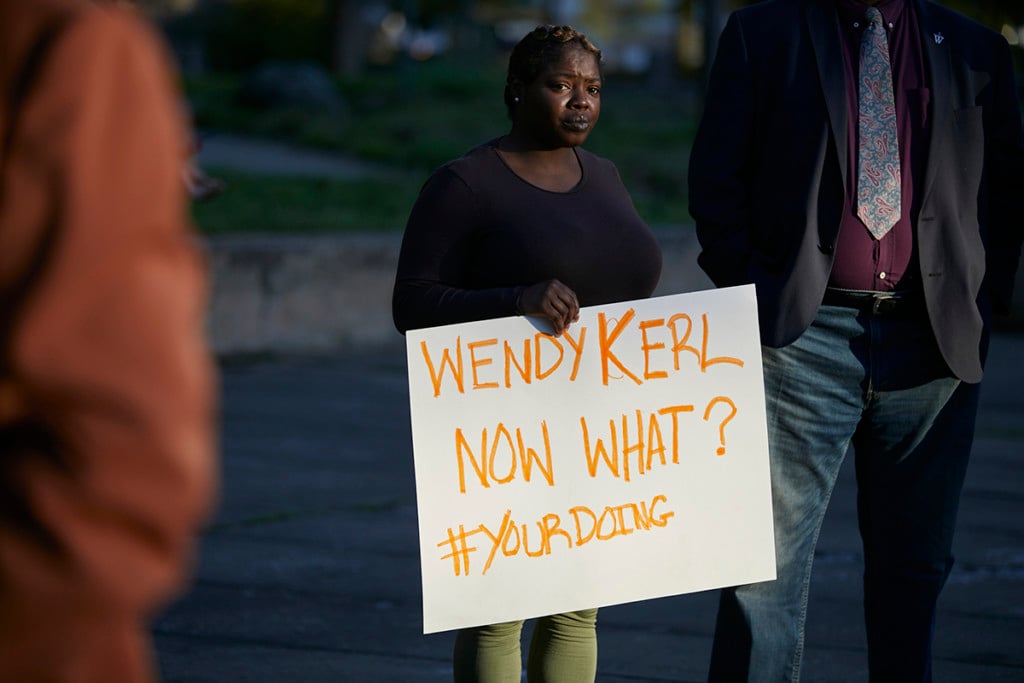 "POW POW," whispers Alexis Jackson over a microphone in Marshall Park last night. She raises her voice, speaking to a crowd of about a hundred. "There goes your life."
The 37-year-old criminal justice student at Johnson C. Smith University is talking, specifically, of the life of her cousin, Danquirs Franklin, who was shot and killed by Officer Wende Kerl on March 25. The footage of the shooting, which occurred in a Burger King parking lot on Beatties Ford Road, was released by the Charlotte-Mecklenburg Police Department on Monday at 2 p.m.
In that video, Kerl and another officer repeatedly ask Franklin to drop his gun. Forty seconds pass from their first command of "let me see your hands" to the moment Kerl fires two shots. Some who watched the video say it appears as if Franklin was actually trying to comply with Kerl's orders, and that he was reaching for the handgun in his sweatshirt pocket when she pulled the trigger.
After the footage was released, individuals and public officials reacted online and organizers scheduled rallies around town, including this "Video Response Rally" in the Second Ward park to protest what they feel was the unjust death of Franklin and the systemic problems in police departments around the country.
Starting at 6 p.m., under a clear sky, activists, pastors, elected officials, high school students, black and white Charlotteans began to gather around a heart-shaped memorial for Franklin made of chalk and candles. Instrumental jazz music played in the square as the crowd swelled from a dozen to about a hundred by 7 p.m.
Cailin Harrison is a 16-year-old student at Northwest School of the Arts, a high school less than a mile away from the Burger King where Franklin was killed. She tells me she came because she wants answers. Tears well as she tells me what it was like to watch the released video footage, "I shouldn't have to watch it because I'm a child, but it's obviously affecting me and my community."
Harrison says this is the reason she can't sleep at night. "I'm thinking about my family. My uncles, my brothers …"
City Councilman Braxton Winston left the council meeting to attend and echoes Harrison. "I have a lot of questions just like everybody else," he tells me, "and I'm gonna ask those questions. There's certain power and a platform in doing that. I look to doing that in the coming days and weeks to figure out how to prevent this from happening in the future."
Ray McKinnon, a pastor and a 2018 candidate for County Commissioner, is calm but firm as he tells me his reasons for attending the rally. "It appears to be an open carry state for white folks, but not for black folks," he says. "As much as I respect city officials, I think they're so tone deaf sometimes."
Jackson is the last speaker of the evening—following activists such as Cat Bao Lee, executive director of the Southeast Asian Coalition; Gemini Boyd, CEO of Project BOLT; the New Black Panther Party; and Corine Mack of Charlotte NAACP. Mack, Boyd, Lee, and other activists talk about the need for action, the need for change led by elected officials: "What we continue to see is the city backing down, being afraid, people elected in and the same systemic problems happening," says Lee.
They speak about their reactions to CMPD's footage: "Watching that video and hearing that officer say 'put the gun down,' 'put the gun down,' and as he's putting the gun down, he gets shot? Makes me sick to my stomach," says Mack. " … I'm tired. I'm tired. Of seeing black lives destroyed."
But when Jackson, the only family member of Franklin's to speak, approaches the mic, the park gets even quieter.
"Danquirs changed lives. Not just mine … Danquirs was a peaceful person," she tells the group. "Go in peace. Cops, lawyers, judges, go in peace."
The night concludes with a prayer from Rev. Rodney S. Sadler Jr. as individuals form a circle around the glowing candles making up the memorial. "As we break the circle, Lord, may we look at our brother and sister on the left and the right, pull them close, and say that we love them," he says. "And then act as though we love them. Amen."
Someone shouts from behind the circle, "Don't pray, vote!"
Debates over what action is needed to prevent deaths like Franklin will continue long after the rally last night. But here, it was about grieving the loss of this life.
Many share hugs before dispersing into the now dark, chilly evening, leaving behind only chalk marks on the concrete: "Danquirs Franklin. Rest in Power."