Public Officials React to Danquirs Franklin Shooting Footage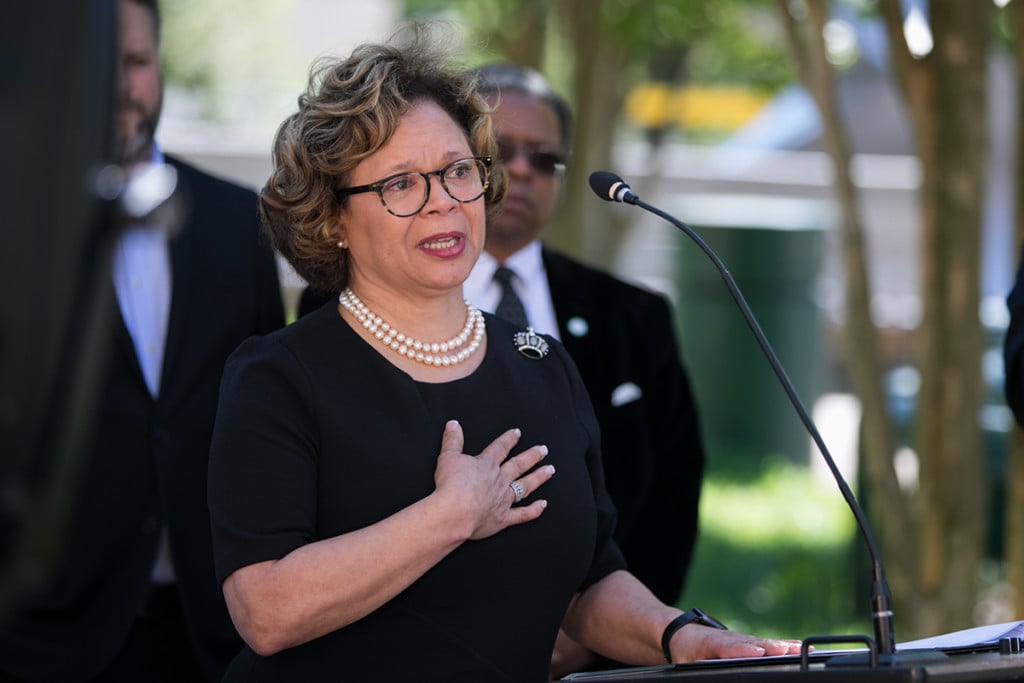 BEFORE A ZONING MEETING of the Charlotte City Council on Monday evening, Mayor Vi Lyles addressed an immediate topic that had nothing to do with land use. A few hours before, Charlotte-Mecklenburg police had made public two minutes and 20 seconds of footage from the body-worn camera of Officer Wende Kerl, who shot and killed 27-year-old Danquirs Franklin in the parking lot of a Burger King on Beatties Ford Road last month.
"Many of our residents and people who live in our viewing area have now seen the body-worn camera footage of the police-involved shooting from March 25," Lyles said. "Now I can say to all of you that all of us have watched it, and it was absolutely very, very difficult. You know, I've lived here a long time, and I care greatly about this city, and I know from that visual image … that I just can't imagine what Mrs. Franklin is thinking and how she has to get through all of this.
"That family has suffered a lot. It's really bad when we lose a young man too early, and when his mother and his children are now forced to not have him in their lives." Lyles said city officials were committed to listening to residents' concerns about violence and police actions, and that council members would be stepping in and out of the meeting to respond to them. "We're elected," she said, "to listen and serve this community." The crowd in the council chamber then joined her and council members in a moment of silence.
The mayor was one of several public officials and community leaders who reacted, some strongly, to what the video shows. The most forceful focused on what appeared to be Franklin's attempt to remove a gun from a pocket of his sweatshirt and drop it in response to roughly 20 adamant commands from Kerl and Officer Larry Deal. As Franklin lowered his arm, Kerl fired two shots, and Franklin said, "You told me to …" He died a short time later.
"This video is beyond troubling," said Democratic N.C. Rep. Chaz Beasley of Charlotte, a candidate for lieutenant governor. "Those of us in positions of leadership cannot continue to be silent on issues like these—we have a responsibility to do more to stop this from happening in the future. Building trust between the community and law enforcement is a deliberate process that requires hard work. I am very concerned that this shooting makes building that trust even harder than before."
Other reactions:
From newly elected N.C. Senator Mujtaba Mohammed, a Charlotte Democrat:
Heartbreaking video from @cmpd today. My heart goes out to the family of Danquirs Franklin. There are peace rallies scheduled because that is what our hearts yearn for, peace. The family deserves that peace, answers, and closure. We owe them nothing less. #Charlotte @CLTgov https://t.co/4RDoP0opAf

— Sen. Mujtaba Mohammed (@MMohammedNC) April 15, 2019
From Robert Dawkins of the police accountability organization SAFE Coalition NC:
— SAFE Coalition NC (@SAFEcoalitionNC) April 15, 2019
Braxton Winston, at a Marshall Park rally on Monday evening:
"I don't got much to say. I'm out here listening. I have a lot of questions just like everybody else, and I'm gonna ask those questions. There's certain power and a platform in doing that. I look to doing that in the coming days and weeks to figure out how to prevent this from happening in the future."