Puppy Love
How To: Have Your Dog in Your Wedding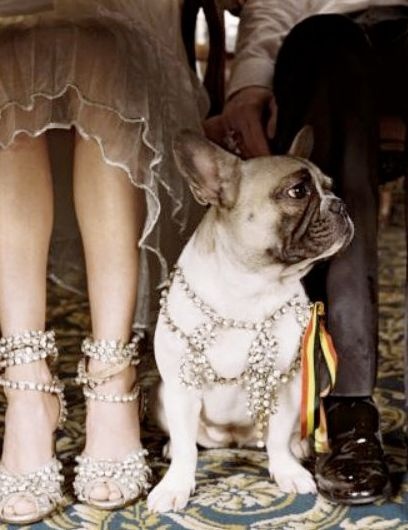 For those who simply couldn't bear the thought of not having their four-legged friend be a part of their big day, there are a few key things to consider before committing. Though it's no surprise that pets play a big role in any family, the incorporation of a dog into your wedding day is not always a walk in the park. These provisions will help you determine if this is a possible option and, if so, how to do so in the smoothest way possible.
Mull it over:
Though the idea of incorporating man's best friend into the wedding may seem non-negotiable–especially for couples whose dogs have been there through it all, the logistics won't always work in your favor. Think realistically about your dog's temperament. Does he do well with large crowds? Does he have a tendency to jump up on strangers? Is he obedient on a leash? If your dog will be spooked by 200 wedding guests, rip a guest's dress, or be defiant on a leash, you may need to face the reality that having your dog in your wedding day may not be the best idea. For those who reach this conclusion, fret not: there are other ways to connect your dog to your wedding. Including your dog in your engagement photo session or wedding portraits is a great way to still spend some wedding-related time with your dog. Another option for acknowledging your love of dogs is to have dog shaped cookies as a wedding favor.
Notify your venue:
If you're getting married in a church and would like to have your dog in the ceremony, be sure to contact your church as soon as possible. Many churches will not allow pets inside the sanctuary. If you're getting married elsewhere, be sure to ask permission from the venue manager as well. This goes for ceremony and photo session venue. Most of the time outdoor venues have no problem with four-legged friends. Just be sure to get the green light before you go any further in your planning process.
Set your time frame:
Do you want your dog only in the ceremony? Only in wedding portraits? Make these decisions ahead of time so you can plan accordingly. If you plan to have your dog be in the ceremony, be sure you have someone to whisk him away after it's over.
Delegate responsibility:
For ceremony dogs: Designate a bridesmaid to walk your dog down the aisle. Will your dog be the ring bearer? If so, this should be coordinated with your bridal party as well as the ceremony officiant. A great way to allow your bridesmaid to stand normally once she reaches the front of the aisle is to have a designated guest or dog sitter to the side of the bridal party. Choose someone with whom your dog is familiar. (This is why your dog sitter is an ideal option). This allows for more uniform photo opps and takes the stress of watching a dog off your bridesmaid.
For photo session dogs: be sure to notify your photographer ahead of time. It helps for the photographer to know ahead of time whether or not a third party will be joining in your photos. Again be sure you have a designated person to bring your dog to and from the shoot.
Choose a wardrobe:
Will your dog be wearing a jacket or sweater on the day? If so, purchase this item ahead of time and let your dog spend some time (indoors, of course–you don't want it getting dirty!) in the clothing item to make sure it's not bothersome to him. An irritated dog is not a happy dog. Consider your wedding colors and be sure to choose clothing items that coordinate with your palette. Another option is to choose a coordinating collar. Take an extra tie that matches those of the groomsmen to a tailor and have it made into a collar. For small dogs, a bow tie put over his normal collar is an adorable alternative as well. For his leash, be sure to use a substantial one. Though a ribbon is visually pleasing, it can easily come untied or rip, depending upon the strength of your dog.
Make sure you have all the necessities:
Be sure you have plenty of water on hand at all times for your dog. Treats and a small bag of food are essential as well. If your dog is to be the ring bearer, be sure you have the proper materials to attach to his collar.
Practice makes perfect:
For those who will be incorporating their dog into the ceremony, it's important–and highly helpful, to bring him to your rehearsal. This will smooth out any possible bumps or mishaps on your big day. It will also ensure that your dog becomes familiar with the space. If your rehearsal becomes a disaster situation: when in doubt, leave him out.
Photo: The Schultzes