Q & A with Janet Biggs
Our talk with the Mint's newest featured artist.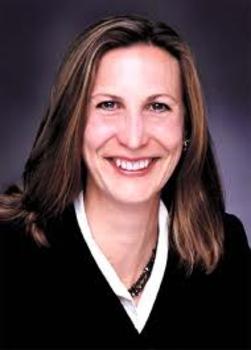 Some artists define the "state of the art." One of these is video installation artist Janet Biggs, who, since the 1990s, has been combining high tech with high art. Her videos often include extreme, tough-to-capture moments, like a motorcycle ride across the Bonneville Salt Flats or a kayaking trip through glacial waters, but her themes are familiar ones—gender, discipline, power roles, and aging. Her new exhibit at the Mint Museum Uptown, Going to the Extreme, will feature three of Biggs' videos, as well as a specially commissioned work from Biggs that focuses on NASCAR's pit crews. We caught up with Biggs to hear about her filming experiences, whether on the track, on salt, or on icy waters.
Tell us about your Mint-commissioned work, Duet. What makes it a Charlotte special?
My first thought when I took on this project was that most of the athletes I've worked with in the past have worked in very underappreciated sports. Niche sports that don't have much of an audience, and usually no sponsorship. NASCAR is far from that, which made it an exciting challenge. I wanted to figure out how to make a piece that didn't fit into a stereotype for either audience—NASCAR, or the art world.
Whenever I had watched motor sports, I was fascinated by the pit crew, so I thought that would be an interesting aspect for the project. But I was intrigued and confounded by two other issues: one was the status the drivers have, and the other was the commercialization of NASCAR. I wanted to address both of those, but in a way that opened more questions than gave pat answers.
I thought about pit crews in terms of power roles and, at times, even gender roles. I initially thought that pit crews played a subservient role to the drivers, but I was drawn to them because I love synchronized activities. They're under such pressure, but give the appearance of ease under that pressure. It reminded me of watching ballet. The more I thought about it in terms of power structures, the less my previous notions held. I could see that there was a direct connection between the drivers and their crews. Why the drivers may get recognition in a way that a pit crew doesn't, the actual performance has to be on both sides. It was a learning process for me.
So many of your videos involve extreme situations. Are they ever scary to film?
I have moments of that. What happens, though, is that once I get behind the camera, the experience is mediated in a way that allows me to not think about that. It's not until afterward that I think, "oh my gosh, why did I do that?" For instance, when I filmed Leslie Porterfield [a motorcycle racer whom Biggs filmed trying to break a world speed record on the Bonneville salt flats], I hired an assistant from Bikernet magazine. We built a rig with a racecar seat, and attached it to the back of a pick-up truck. It was just a seat with a harness safety belt, about six inches above the salt. We just went as fast as the truck would take us, which was about 105 mph. At 105 mph, I realized that my viewfinder was about to be torn off by the wind. That was an exciting moment.
What made you choose video as your medium?
The first video project I did was completely idea-inspired, and I still think of my videos in that way. I don't feel married to that medium, because for me, it's about the idea. Most of the projects I was doing before my first video projects were installations, because they had an immersive quality that was important to me. I don't have any video training at all, and I think part of my success was because I had no idea what I was doing. I was able to do things most said weren't possible. I also thought my studio would stay really clean and pristine if I got ride of painting racks and all that sort of thing, too. But, of course, video technology is obsolete in a minute and a half, and so I have stacks of antiquated equipment. My studio ended up looking like a warehouse.
Over the 20 years you've been doing this, would you say your subject matter or style has changed?
What makes me want to keep producing is that I constantly set challenges for myself, and so that's really part of the process. I think my work evolves because of that. As my life has changed, so have my topics. When I first started in the medium, I was looking at young female identity and sexuality, among other things. Now, I look a lot at aging identity. And I'm watching my life and my work change right now. There's also a point at which I feel like I lose control, and the work becomes what it needs to be. But I think it's essential that my work changes and evolves if I want to entertain my audience past one piece.
What's it been like getting to know Charlotte through your work?
First of all, it's so exciting to be a part of the new Mint Museum, which is completely gorgeous. Also, it feels like my piece has extended: I am now a fan of NASCAR, which I never would have expected. But after watching all the races, I'm excited that the drivers I worked with are doing so well. I got to see a lot of sides of NASCAR, both in the stands and through working with the corporate office. It was exciting to see how vast NASCAR is and while I was filming on the track, I forced myself to look through the camera so I could see how the race was actually going. Between the Mint, the racing, and the barbecue, I'm very excited to be back in Charlotte.