Q & A with Steve Solomon
Revue chats with the comedian whose show, My Mother's Italian, My Father's Jewish, & I'm Home for the Holidays, will run at the Booth Playhouse November 30-December 5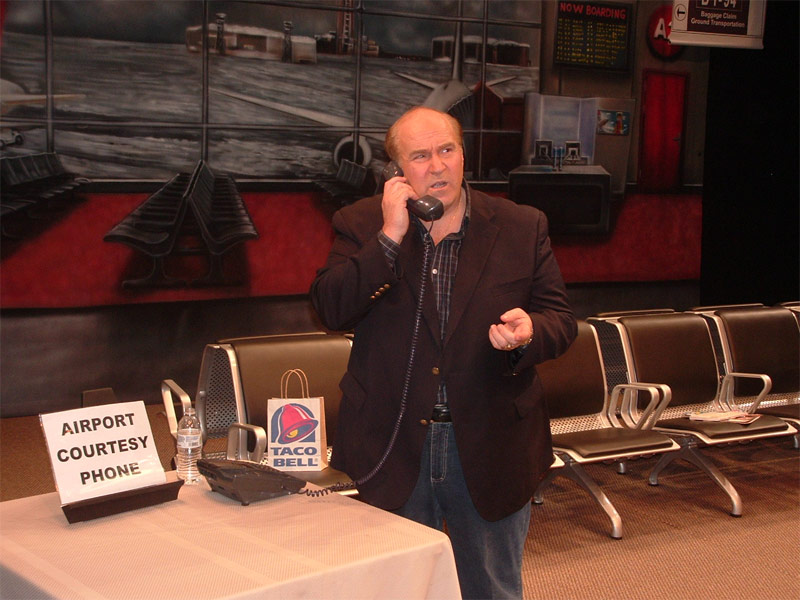 For many people, finding holiday hilarity is as easy as heading home for Christmas dinner. After all, food-slinging babies, bickering in-laws, and cheek-pinching grandmas are absurd in their own right. Comedian Steve Solomon has a large family, and thus plenty of material for his upcoming holiday show, My Mother's Italian, My Father's Jewish, & I'm Home for the Holidays. The one-man show, which takes place in the Atlanta airport where Steve is stranded, is a festive sequel to his smash hit, My Mother's Italian, My Father's Jewish, and I'm In Therapy, which had a successful off-Broadway run in New York. We caught up with Solomon to ask about how one guy learns how to play 20 different family members, and what those family members think of his on-stage impersonations.
What's it like actually going home for the holidays after touring this show? Has your family actually seen it?
My family has seen the show. They are the characters, after all. They love it. It's been wonderful. This show takes place in an Atlanta airport, and everything's been cancelled, and I've got to be home because I have to pick up the cake. Of course, my parents keep calling. The audience identifies with it. I play 20 different characters. This comes on the heels of the original show [My Mother's Italian, My Father's Jewish, and I'm In Therapy], which ran in New York for a full two years. That's one of the longest-running comedy shows in history.
Besides, of course, providing great material, how did your childhood in Brooklyn pave the way for you to become a comedian?
I grew up in a place in Brooklyn called Sheep's Head Bay, which was a blend of ethnicities. I was always hearing different dialects. My mom spoke with a heavy Italian accent, and my dad with a Jewish accent. Through that exposure, I heard those different accents and voices, and that's how I can duplicate them. My goal is to have the audience close their eyes and think that it sounds like the real thing. That's what growing up in the city did, it showed me lots of diversity. If you're worried about political correctness, though, don't come to the show.
What was one of your earliest stand-up gigs?
I didn't really start as a comic. I was a physics teacher, and then becomes the assistant superintendent of schools on Long Island. But I was bored out of my mind with it. I couldn't take the politics. But I had always had a knack for comedy. I love doing it, I love talking, but I never took it seriously. I performed as a youngster in a place called Pits Comedy Club, which was the first comedy club in the United States. It was exciting to be there. I got bitten by "the bug." I decided I would develop a product that would be a universal show, and the original show did just that. That's why it was such a hit.
What have been the comedic influences throughout your career?
Jonathan Winters. A long time ago, he was The Comedian. George Carlin, also. Those were important influences in my life. Winters did a lot of voices that I did. They never did plays per se, but their humor sticks with me.

Do you have the exact same show every night, or do you vary your performances?
It's always different. The audiences changes, so that makes me change the flavor of the show. The audience controls 20% of what happens on stage. I always pity the poor sound technicians because they never know what to expect. That's what makes it fresh. I do a lot of improv, and the audience is always part of that. Because of this, I try to play in intimate theaters.