Q&A: Amy Herman's New Photo Exhibition at CPCC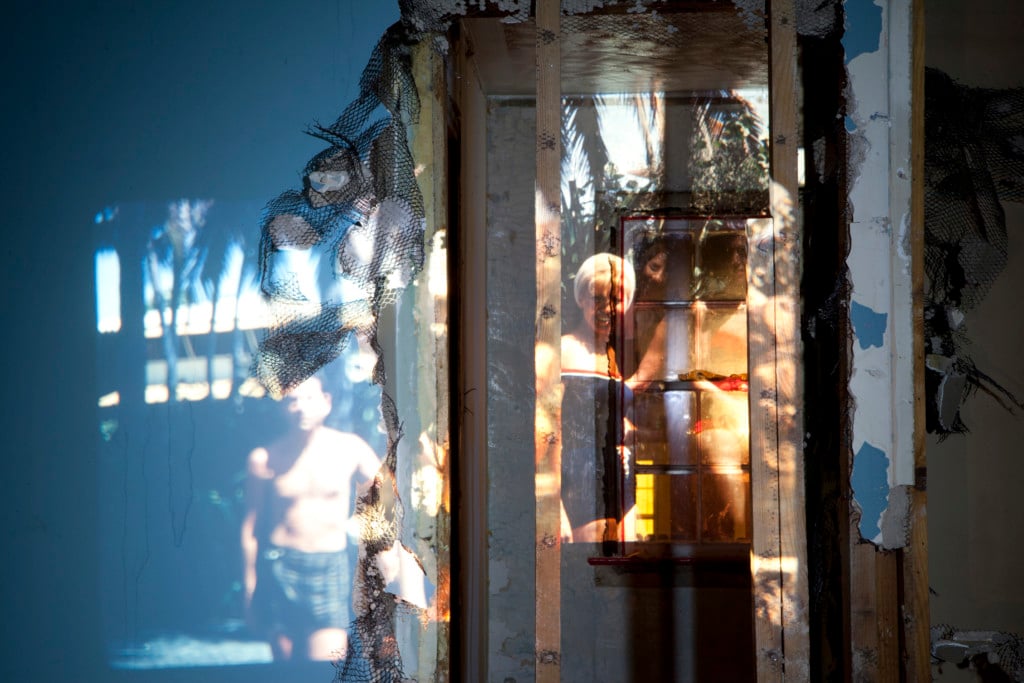 INSIDE THE ROSS GALLERY at Central Piedmont Community College, photographer Amy Herman shows her newest body of work, it wasn't important until it was, through Oct. 9. The show's primary pieces are photographs of photographs; Herman took found images and projected them against surfaces in her house, amid a major renovation begun after she and her husband purchased the home. Herman, known for co-heading the residency program Goodyear Arts and seasonal pop-up VTGCLT, recently spoke to Charlotte magazine about the exhibition and its familial origins.
Charlotte magazine: First, where does the title, it wasn't important until it was, come from?
Amy Herman: My brain. (Laughs.) It actually came from a conversation Amy (Bagwell) and I had about the work and trying to name the show. There's dual meanings, but I'm using a lot of found photographs from my parents. I'm actually projecting them and making new photographs of them. My mom looks at the old picture and says, 'What? Why did you choose that picture of all the pictures?' So, it wasn't important until I made it important.
Plus, this body of work is, you could say it in a cheesy way, a house becoming a home and thinking about how a house is just a house until something happens in the house to make it important. It's the memories there. Not only did the photographs I chose not enough as much merit to the people who took them, but there's this idea that once things start occurring in a place, that's when it's meaningful.
CM: Tell me what it was like to look at these old photographs. Was it strange?
AH: It wasn't, because I'm obsessed with history. I can get interested in the history of anything. One thing I'm obsessed with the fact that I look very, very similar to my grandmother, and that comes up in my work. I'm also obsessed with how my mom looked when she was younger. I see these picture of her and I think, Ugh. I wish I knew her. I wish I was her.
CM: How does she feel about that now? You exploring that part of her life without you?
AH: My parents have also been always been supportive of the arts in general, so they're willing to go along with anything. My dad dabbled in photography when he was younger, so a lot of the images I use in this current series are photographs he took.
There are these things about history and family history. To talk about it in terms of one photograph I made, there's this cabin that I don't think I ever went to. I think it had already been sold out of the family But I know this cabin, from seeing pictures of it, this really distinct A-frame cabin. It's on this lake called "Eight Point Lake." There are all of these pictures of my whole family there, and they tell these stories. One of the stories is about the weather there. Apparently, there's this perfect day that happens, where it's just cold enough for you to wear a sweater, and it's just windy enough that you might not want to go out on a boat on the lake there, but you still might want to. They called that an "Eight Point Lake Day." And growing up, I always knew this phrase, and every once in a while, I'll text my dad and say, "It's an Eight Point Lake Day." And then it feels like a memory, but it's not. It's this weird nostalgia for something that never happened.
A lot of the work in this show is [exploring] how can that feeling be reflected in a new house and a new surrounding? How important is family, people, memory, and nostalgia in creating a new place?
CM: Tell me about the Snapchat installation, next to these images.
AH: It's 40 small images, about the size of a phone. They're all Face Swaps with different ages of my family, during different stages of their lives. It's this idea that technology makes you seem really close. In reality, one of the members of the family I Face Swapped with died before I was born. It's this idea that they're a part of me, but it's not necessarily vice-versa. Literally, they're in my genes, they're a part of me, versus me being a part of their life and it being a different thing, tactilely.