Q&A: Dale Earnhardt Jr. on Charlotte, Retirement, and What's Ahead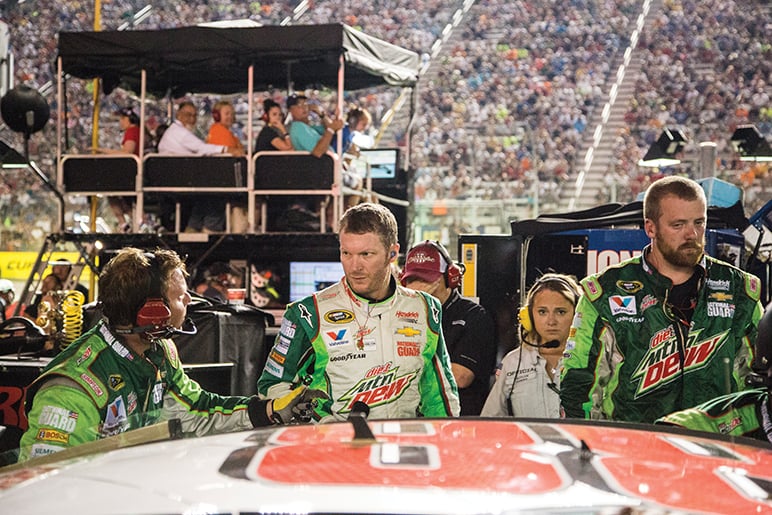 TO THE COUNTRY, Dale Earnhardt, Jr. is a stand-out for his sport: a 19-year NASCAR career with 26 Cup Series wins and 14 years as NASCAR's Most Popular Driver. Even though he retired from driving last month, the sport won't lose him: Earnhardt will be in the broadcast booth later this year for NASCAR on NBC.
But to us, he's a Charlottean of the Year not only for his professional success but also for his his personal contributions closer to home. Even as his schedule keeps him traveling, even as his fame demands much of his time, Earnhardt is still a hometown guy who remains committed to the Charlotte community.
His Dale Jr. Foundation supports non-profits in the Charlotte area and beyond, giving Earnhardt and his sister Kelley the opportunity to give back to the community where they grew up and where they still live with their families. And the Earnhardt family is about to get a little bigger: Earnhardt and his wife Amy are expecting their first child, a daughter, in May.
Here, Earnhardt shares his thoughts on what's ahead for him, with a focus less about driving and more about what drives him. Interview edited for clarity and length.
First, congratulations on your retirement, your future broadcast career, and your upcoming baby. You've got a lot of life happening at once. Will retirement mean slowing down or applying momentum in new directions?
It's hard to tell exactly what the several months are going to look like. I'm just going to make myself available and get ready for it to be pretty busy and consuming. I imagine my bosses are going to be easy on me around the months of May and June.
We go into the booth to do the broadcasts in mid-July, so I have a lot of time to prepare. I'm going to spend as much time as I can, working to know everything I can know and to learn everything I can learn.
Your Dale Jr. Foundation is active in the Charlotte community, supporting groups like Levine Children's Hospital, Ronald McDonald House in Charlotte, and Pat's Place. What keeps you so invested in your hometown?
When we first started (the Dale Jr. Foundation), our first few initiatives were more national. We started taking some of that energy and applying that to our community. Doing this this in our own community is so much fun. You can see the impact yourself, you can be the boots on the ground. You can learn so much more about the impact the initiative has.
I think there's a sense of pride, too, in the community you grow up in. It's shapes the person you are. Carolinians have a lot of pride in their state, we have a lot of pride in our communities. You want to lift up the community that's given so much to you, that you're obligated to give back to give your opportunities to someone else.
My sister (Kelley) has the same vision, and she's influential in the foundation for sure. She has the same sense of community, she has that same initiative and drive to do something that's going to affect her community, especially with children.
Can you share a particular moment with the foundation that made a lasting impact on you?
We worked with Blessings in a Backpack. It's a national organization, but we worked with the one at Jackson Park Elementary in Kannapolis. We got to go there last year, fill backpacks, and meet the kids, interact with them. That was a great experience—seeing those kids and seeing exactly how that program works and the impact it has. It gave me a lot of energy and a need to do more of that kind of work.
Are there people who have inspired your charity work?
Meeting Greg Olsen and partnering with him on Weekend with the 88s (for Levine Children's Hospital). We auctioned off the opportunity for a fan to go to a race and a Panthers game on the same weekend. It was actually Greg's idea, and he's been incredible to work with.
Greg is a big icon in our community, and he's so selfless and giving of his time to his charitable work. Seeing people like him gives people like me a goal and vision to do more in the community. Pairing with him over the past couple years has been a big inspiration for me and my work with the foundation.
What did you enjoy about growing up in the Charlotte area?
Compared to a lot of areas I've been to around the country, we've got it good here when it comes to weather, when it comes to the beauty of the landscape. The green, the trees, the grass. We take a lot of that for granted here.
I was born in Cabarrus Hospital and grew up around Kannapolis. (My sister and I) lived in a mill home at the Concord mill with my mother when our house caught fire in 1981. We were really poor, and my mom had to move back to Norfolk to live with her mother. She didn't have any insurance or any money, so she had to give up custody of me and my sister to my dad. And so that's where we lived since 1981, living around Mooresville and (Lake Norman) ever since.
Charlotte's been such a booming, growing town for so long. I remember when (NC) 150 off of (I-77) exit 36 was just a two-lane road. You see I-77 changing so much during the years, all these little communities continue to blossom into these awesome places.
I've been able to travel all over the country and see all kinds of different landscapes and communities, and I feel fortunate. North Carolina has a lot to offer. I don't know that I could've grown up in a better environment. It's an easy place to live.
What would you like your daughter to experience as she grows up in Charlotte?
I've always enjoyed the lake, I've got a boat that we take out every once in a while, so spending time on the lake with her would definitely be top on the list, as well as going to the parks around there, walking around the college (Davidson). Getting to a couple Hornets game is always a good time, too—going to Whiskey River first for a bite and making an evening of that.
I can't wait to meet her and to see who she's going to be. She's gong to have all the tools at her fingertips living here in the Charlotte area.