Q&A: Denise Watts, the Exiting Leader of Project LIFT
She leaves CMS after eight years and mixed results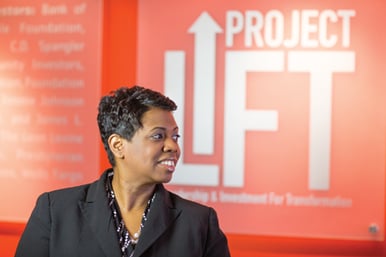 FOR EIGHT YEARS, Denise Watts has been the face of Charlotte-Mecklenburg's most ambitious and controversial quest to break the link between poverty, race and academic failure.
When Charlotte's philanthropic and corporate leaders rolled out Project LIFT (Leadership and Investment for Transformation) in 2011, they chose Watts, a veteran educator in Charlotte-Mecklenburg Schools, to head the public-private push to boost academic success at West Charlotte High and its eight feeder schools. Donors pledged $50 million over five years (the project was eventually extended for two more) and talked about turning those low-performing schools into "90-90-90 schools," with 90 percent poor and minority students, 90 percent testing at grade level, and 90 percent graduating on time.
The program earned victories, including a sharp increase in graduation rates at West Charlotte High and an "Opportunity Culture" program that creates high-paying jobs for effective classroom teachers—piloted in Project LIFT and now being replicated across the state and nation. But results never came close to the goal of elevating LIFT schools to proficiency levels that compare with the best in CMS. In 2018, all the LIFT schools fell below 50 percent pass rates on state reading and math exams. (2019 results will be released this fall.)
Now Watts is leaving Charlotte-Mecklenburg Schools to advise districts across America about what works and what doesn't in school turnaround quests. Ann Doss Helms, who covered Project LIFT from its inception as The Charlotte Observer's education reporter, talked to Watts about what she has learned; why she's leaving CMS; and her dream of coming back to education in Charlotte in a surprising new role. Answers are edited for clarity and length.
---
Charlotte magazine: When you started with Project LIFT, what attracted you?
Denise Watts: I think it was the fact that I could really focus on a concentrated area of town that was disenfranchised. If anybody knows me well, they know that I'm kind of a turnaround, start-up type of person. It was an opportunity to do something that nobody had a script or a recipe for.
CM: The scope of the project and the $50 million investment drew a lot of attention. If 2019 Denise Watts could go back and offer advice to the people who were planning the rollout, is there anything you would tell them?
DW: I think the money served its purpose in grabbing people's attention, but it also created this false narrative of this endless bank account. When you really looked at the $50 million, it was about $1,500 per child per year, which most people would spend on a summer camp. So leading with the money can create a narrative that's hard to get around.
CM: What about the five-year time frame? That sounded really generous at the time, but I've heard a lot of you say that wasn't enough.
DW: Turnaround efforts, if you look at the research, take a lot more than five years. I think the research says seven or eight years, but I think seven or eight years in Charlotte still would have been ambitious because we've had four or five superintendent shifts, we had school board shifts, we had state policy that shifted and caused us to pivot. I think any time you have major shifts it almost reboots the clock. So context matters.
CM: When you were talking about the 90-90-90 goals, and that included 90 percent on grade level, did you believe that you would be able to meet that at some point?
DW: I can remember sitting at Foundation for the Carolinas thinking about how we would measure traction or progress and trying to write down a number that made sense. Every single number that I would write down, I would be like, "Is that what I would want for my own kid? Is it OK to say we want 60 percent? Is that really what gets people up in the morning and gets people excited?" I just could not reconcile in my head a low bar of success.
Would it have told a better story publically, externally? Absolutely yes. But I just come from a mindset of, we need to set the bar high. I would never say that was unrealistic. I won't say that about our kids. I believe that the children in our LIFT schools are remarkably brilliant children.
If I would change anything, we would have kept the 90-90-90 but we would have had some other metrics. There were lots of other metrics that we were positive with, when it comes to talent, when it comes to improved school culture, when it comes to student attendance and behavior and engagement, when it comes to filling (teacher) vacancies.
CM: How did you combat cynicism and despair when you'd have another round of test scores and most of your schools would be below 50 percent proficiency?
DW (wiping tears from her cheeks): I lived with the—I don't want to say guilt—disappointment that the test scores didn't bear out the way that we all wanted. But there are so many individual success stories. Kids, teacher, principals, schools that have changed. I never was satisfied with the test scores but I also had to balance it with the other things that were successful and the progress that you could see with your eyes, right? And a great husband who let me cry many nights.
CM: Project LIFT faced criticism all along that by pumping resources into racially isolated high-poverty schools, it was allowing people to be comfortable with segregation. How did you respond to that, and did your thinking change over the years?
DW: Based on what I've seen happening all around me in Charlotte over the last seven or eight years, I don't think anybody was comfortable. The issue of equity, race and poverty has continued to be a headline, with or without the dollars. I don't think the money distracted from those conversations. We now have an Opportunity Task Force in the city. These conversations are pervasive. The money and the support that Project LIFT gave got the kids in the schools a little bit out of a deep ditch.
CM: Can children of color and children of poverty succeed in an isolated or re-segregated setting? Or do you ultimately need to change that structure?
DW: I would never say that a kid can't be successful in the current circumstances that they're in. We have too many examples where they have been. It makes it very much more difficult to do, though.
CM: How did working with Project LIFT shape your decisions as a CMS parent?
DW: The constant standard for me is, "Is this what I would want for my own kid?" Over the course of the first five or six years of the initiative, when I'm walking in and out of schools I'm saying to myself, "Would Mitchell or Harrison thrive in this environment?"
There were several LIFT schools that I would have been very comfortable putting my sons in. I tried to get Mitchell to go to West Charlotte, but he was already in his freshman year at POB (Phillip O. Berry Academy of Technology, a CMS magnet school), so we didn't want to change that.
The opportunity for Harrison to go to Walter G. Byers (a K-8 Project LIFT school where he just finished seventh grade) has been one of the best decisions our family has made. Our youngest son is a very reserved child. He's very, very smart but does not always perform in that way. Having him at Byers has really pushed him academically and made him more social. It's been a great choice. I got text messages and calls from the teachers when he maybe had his head down three days in a row at lunch to say, "We're a little worried about him. Is he OK?"
In his previous school experiences, Harrison, because he's quiet and compliant and performs average, it's very easy for him to be unseen. At Byers this year, he was seen.
CM: What was the toughest part for you during this eight-year journey?
DW: I can think of a lot of individual difficult moments that I was able to be resilient and pop back from. Towards the end, I think it was the culmination. It was the transition in leaders, it was the constant criticism. I worked in the district but it was like fighting in the very entity that you're trying to support. It was the wear and tear on my family. It was all that.
CM: What were the high points?
DW: This year finding out that 60 percent of the kids got accepted into the college of their choice at West Charlotte High School, or where you can see a principal like Timisha Barnes-Jones, and you hired her as an AP and she becomes the principal and then she goes on to become the regional principal of the year. (Barnes-Jones, West Charlotte High's principal, announced this week that she is leaving CMS to work as an administrator in Savannah-Chatham County Schools.)
When you see a kid in the community—the girl who does my hair was a West Charlotte student. She can remember her experience at West Charlotte and how positive it was and how it's enabled her to be successful. There are thousands of stories like that.
I would also say the opportunity to go across the country and talk about LIFT. I think it's actually more appreciated nationally than it is here locally.
I think about initiatives like Opportunity Culture that's now across the United States, and being invited to places to come talk about it. Those are all things that I'm proud of, that I believe are a legacy to the work we did here.
CM: Why did you decide to leave CMS now?
DW: It was time. This is my almost 20th year in education. I've been in the role as a learning community superintendent for eight years, seven of those years with LIFT. It was just time. You just know that you need another environment.
CM: What's going to happen to the schools that you're supervising? If you could design the next incarnation of Project LIFT, what would you do differently or the same?
DW: As far as I know, the schools will continue to function in the Central I Learning Community, which is 29 Title I (high-poverty) schools.
There has to be a differentiated focus on the lowest-performing schools. When we talk about rolling out a curriculum districtwide, that is not equity. That is equality. We're doing the same thing for everybody. Equity is what are you doing different for kids who are not getting the experience they need and deserve. If we're really going to be about equity, that's the question that any strategy needs to be able to answer.
CM: What's next for you?
DW: I will be working next year as a chief of district support for the University of Virginia, which is basically an opportunity for me to support other district leaders. What do we change at the district level that will best enable school turnaround or school transformation?
What research and history tells us is that you can turn around a school with the right leader, the right circumstances. But in order to do wholesale reform—and sustainable—it is really the district conditions that have to change first.
CM: Has any district, including CMS, done that successfully?
DW: It depends on how you define success. I've had an opportunity to do some consulting work with UVA over the last few years and had an opportunity to go across the nation and see several districts working at it. I would say Fulton County, Georgia, is definitely one place that would be high on my list as a place that's made significant progress.
I could name some other ones as well. The problem is the context in those districts changes too. Superintendents change. The leader that was leading the initiative leaves. So you see this roller-coaster kind of thing happening.
CM: What's left on your bucket list?
DW: So I have a dream. I would love to open a charter school in Charlotte serving kids on this side of town or some other economically deprived area. It would be interesting to broaden my experience into the charter world and see how that all works.
I do believe at some point in time when the conditions are favorable I could return back to CMS. If I did that, I would love to do it as a principal. That was my favorite job. I wasn't quite finished in that role when I was plucked out.
CM: The charter dream is interesting. The whole premise of Project LIFT was, "You can't charter your way out of this; you have to change a whole district." What could you do in a charter school that you couldn't do in LIFT?
DW: A lot. When you're trying to reform a group of schools in the same condition that created them, you're constantly pushing against the status quo. A charter environment gives you the opportunity to start anew, afresh, your own conditions. The phrase that I got so many times is, "This is the way we've always been doing it." So you're constantly fighting that tagline, to the point that that's part of the wear-down process.
My passion is still around kids and serving children. I've missed kids tremendously over the last seven or eight years. When you're coached into a central office position, a lot of times you're told "You're going to make a bigger impact." But that impact is very difficult to see on a day-to-day basis. I need to be around the kids and the teachers.