Q&A: Professor Jemayne King on the Language of Sneakers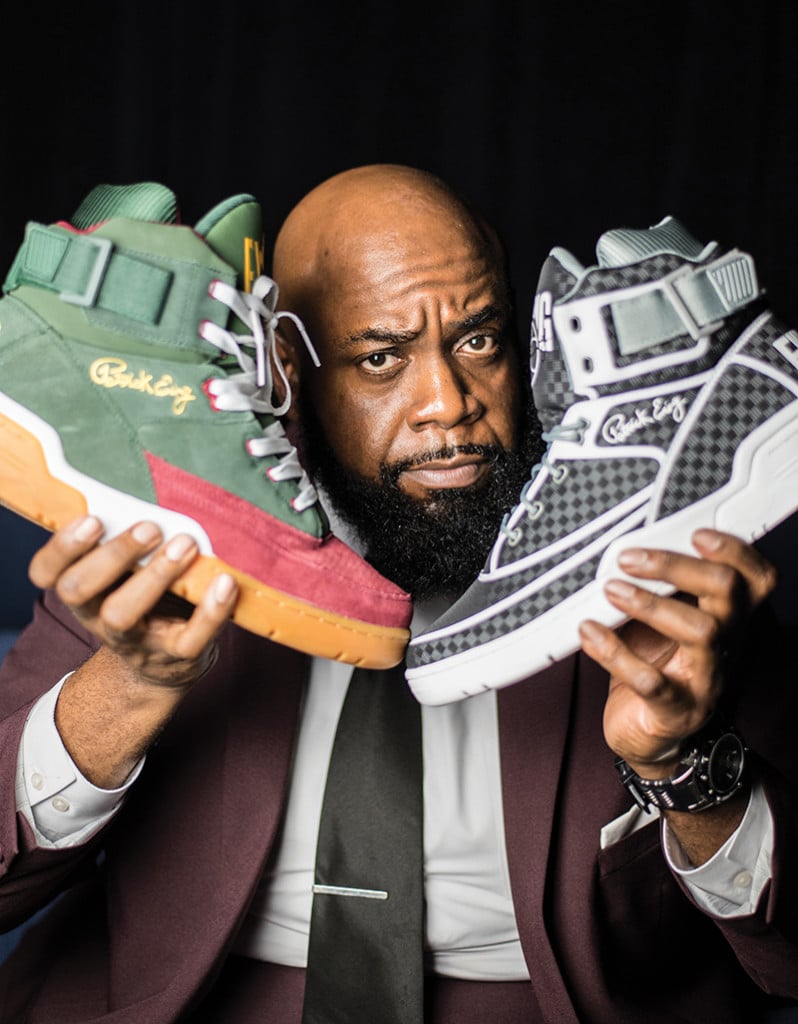 WALK ACROSS the campus of Johnson C. Smith University with Professor Jemayne Lavar King, and you won't get far. Not if students are around. The man who wants education to be relevant, who hosts a podcast and has a clothing line, is someone the students understand. He designed the university's most unusual course, and it may be the only one of its kind in higher ed: English 296, Digestible Sneaker Culture. Using economic theories, hip-hop lyrics, famous athletes, and even Shakespeare, King demonstrates that sneakers are a cultural language.
He grew up in the small town of Franklin, Virginia, and put on his first pair of Nikes in first grade, hoping to run faster. During college and grad school, he worked at Hibbett Sports, and his collection of shoes—which he calls "the archive"—grew to hundreds. At 31, he published a book of poetry and essays, Sole Food: Digestible Sneaker Culture. A 10th anniversary edition was released in 2018.
Immensely likable and articulate, he still has a kid's enthusiasm for shoes. He shares insights on our obsession with the only thing worn by both men and women, children and the elderly, rich and poor, black and white, educated and illiterate, able and disabled, and on every continent: sneakers.
---
Charlotte magazine: What's held your interest in sneakers and the sneaker culture?
Jemayne Lavar King: I see sneakers as art, and I also see them as a text. In the same way I read Faulkner or Eudora Welty and (understand) the material circumstances that helped create that text—and inspired it—the same thing happens with sneakers. It's literature in the form of a sneaker.
CM: Why did you start in this business? Does it have a language of its own?
JLK: Definitely there's a language. If someone was wearing a pair of sneakers that had flat shoelaces, they've been influenced by hip-hop culture. When the shoes come from the factory, they come laced under, and they come laced pretty tight. Lacing over, above the loops, started with the hip-hop culture.
CM: The sneaker culture is important among African- Americans. Does it cut across race and ethnicity?
JLK: By all means. My dissertation deals with this. The culture we have now, created by African-Americans and other minorities, goes beyond any race, creed, or color. It brings people together. I recently spoke at Lincoln University in Jefferson City, Missouri. Those students were dressed the same way as my students are dressed here. Down to the socks. I wasn't surprised. I was in Italy in May and in China last spring, and the West's influence is so prominent that—dare I say—there were more people dressed like people in Charlotte, North Carolina, than not. And much of that had to do with sneaker culture. With hip-hop culture. And both are subcultures of African-American culture.
CM: Why is the sneaker culture important?
JLK: It's a form of expression. Any way that someone has a voice is always going to be a good thing. In most situations, the working class or the proletariat does not have a voice. Hip-hop began as a voice of the proletariat. We don't have a platform, so let's express our concerns via the medium. Individuals expressed themselves via sneaker culture.
CM: What would indicate that someone is a collector, a 'sneakerhead'?
JLK: An authentic subscriber—if someone is really into sneakers—will not do certain things. For example, they're probably not going to walk across the grass. Sneakers have this film when they leave the factory. As that film breaks down, that's how sneakers get dirty. Nike's translucent soles yellow quickly from oxidation. Oxygen is in dirt, in grass, so if you were to wear a shoe that had a translucent sole, grass is going to expedite that process of the yellowing. Which is going to make your shoes look old.
CM: The Converse All Star shoe has been popular since the 1920s. What's the reason for its lasting appeal?
JLK: It's become iconic for a lot of reasons. Movie characters wore it. During the '60s, if you played basketball, you wore the Chuck Taylor All Star. You couldn't wear that on a court unless you had the game to match it. It is timeless. As far as fashion goes, how many weddings have you seen with groomsmen wearing them? And even the ladies. The shoe's a staple—it's become a language everyone speaks.
CM: What do you wear that's ordinary?
JLK: Avia from Walmart—you can get it for 20 bucks. It's designed like Nike Free shoes; the quality rivals Nike.
CM: How many sneakers do you own?
JLK: I haven't counted since 2008. It was definitely 500 pairs then. I've worn the same size since fourth grade, so if the shoe lasts, I can wear it.
CM: Do you have a favorite store in Charlotte?
JLK: There's a popular store here, Black Sheep. They have relationships with brands, with Nike, with Adidas. And there's product you can get there that you can't get anywhere else. So I go by there every couple of months. Social status is a Tier Zero account. That means whatever is in the top tier—they have it.