Q&A with Rebekah Newman
The Charlotte Symphony's newest member stops in for a chat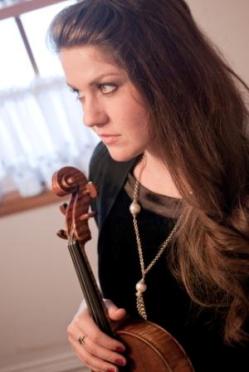 Rebekah Newman is the Charlotte Symphony's newest member and its principal violist. When the Charlotte newcomer isn't playing with the orchestra, you might find her at Dean & Deluca, Amelie's, or salsa dancing. On Dec 14, you'll find her with the rest of the symphony — and the Oratorio Singers — performing the majestic Messiah. Details here.
Charlotte magazine: What led you to Charlotte?
Rebekah Newman: When I saw that the Charlotte Symphony was holding a principal viola audition, I didn't hesitate sending my resume in. I've heard great things about the city, and the more I learned about the orchestra the more I wanted to work here.
CM: Where were you prior to moving to Charlotte?
RN: I played with the Minnesota Orchestra for the 2010/2011 season.
CM: Where are you from originally? How old were you when you started playing music?
RN: I am originally from Marquette, Michigan which is in Michigan's Upper Peninsula. There weren't many teachers in the area, so for my last two years of high school, my mom and I drove down to Chicago every other week for my hour and a half lesson with Hilel Kagan, the former principal second violinist of the Chicago Lyric Opera. I started playing the violin at age seven when my family lived in Rapid City, South Dakota. I was part of the Suzuki program there with my younger brother. I didn't fully switch to viola until my junior year of college at the Cleveland Institute of Music, under the tutelage of Mark Jackobs.
CM: What's it like working with Christopher Warren-Green, the man who conducted the wedding of the century?
RN: I think Maestro Warren-Green has a lot to offer this orchestra! It is wonderful to be conducted by such a renowned violinist with such a full playing career as concertmaster. There is a real understanding of how an orchestra works from the inside that not many conductors have.
CM: What 2012 CSO concerts are you most excited about? Why?
RN: I am very much looking forward to playing Don Juan, by Strauss … It has become one of my favorite pieces over many years of practicing the excerpts for auditions.
CM: What's your impression of the Blumenthal Performing Arts Center? What are your impressions of Charlotte? Do you have any favorite hangouts yet?
RN: When I walked into the Belk Theater for the first time. I was quite impressed. It is a beautiful, impressive-looking hall. We are very fortunate to be able to play the majority of our concerts there. I definitely have some favorite places in Charlotte. Dean & Deluca has become a staple for me. Amelie's is another favorite, and I've really enjoyed the Italian restaurants I've gone to – Luce, Coco and Toscana. I am also very impressed with the beautiful parks in Charlotte. I have enjoyed walking and driving around most of them.
CM: When you're not playing in the CSO, what do you do for fun?
RN: When I was 13, my mom and I went to a Celtic festival called Gaelic Roots in Boston and got hooked on the music, culture, and the accent. I am a bit Irish, so I guess it runs in my blood. I still play Celtic fiddle quite often and am looking for a good jam session here in Charlotte to attend. I also love Bluegrass and am looking forward to hearing more … I also love salsa dancing and have been seeking out the popular places in town.
CM: What's in heavy rotation on your iPod now?
RN: Lately I've been hungry for chamber music. I've been listening to a lot of Brahms quartets, piano quartets and quintets. Tchaikovsky's Souvenier de Florance is definitely a favorite. Whenever I'm not listening to classical music, I will put on the old jazz classics like Armstrong, Fitzgerald, Sinatra. I'm also a huge fan of Pink Martini, Punch Brothers, and the new album "Goat Rodeo."
CM: What's one fun fact about you?
RN: I grew up riding Western, and I miss it very much. I'm looking to find somewhere in the area to start riding again.