Quick Pours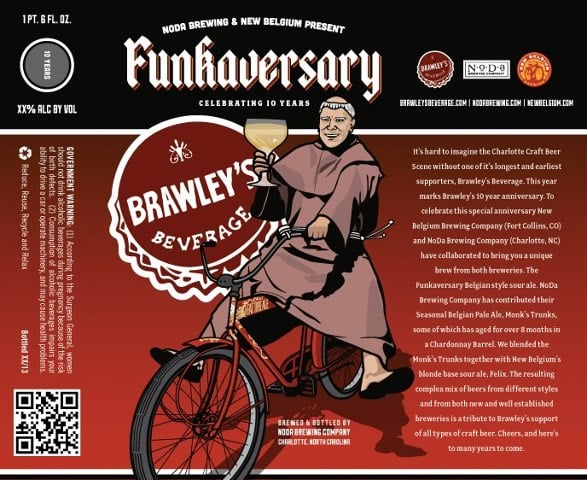 Here's a look at what's going on in the Charlotte beer community. One quick note: American Craft Beer Week begins next Monday, May 13. Yes, we've already been through Charlotte Craft Beer Week and North Carolina Beer Month. I'll keep everyone updated on Twitter if and when any local brewery plans to do something special for ACBW 2013 (I haven't heard of anything yet), but one has to wonder if we at the very least need to space these "weeks" and "months" out a little bit from one another.
On to the links …
• This month marks the 10-year anniversary of Brawley's Beverage on Park Road. Michael Brawley has been a staple and pioneer in Charlotte's craft beer community, and to celebrate the occasion, NoDa Brewing Company and New Belgium Brewing collaborated to make Funkaversary. Created by NoDa head brewer Chad Henderson and Lauren Salazar, who heads up the sour program at New Belgium, Funkaversary is a blend of NoDa's Monk's Trunks and chardonnay barrel-aged Monk's Trunks along with New Belgium's Felix.
This Belgian-style sour ale was brewed at NoDa and originally celebrated at a special beer dinner last week to honor Brawley and the store's anniversary. Only 480 bottles of Funkaversary will be sold and you can get one at Brawley's on Friday, May 10 beginning at 7 p.m. Cost is $10 per bottle and there's a 4-bottle limit. Also, the first 10 people in line will receive a Funkaversary label poster (a classic, but the way, as it features Brawley's dad, Mike, hoisting a sour beer in a monk's outfit riding a New Belgium cruiser). These bottles won't last long at the store, so plan accordingly.
• Tickets are still available for Saturday's N.C. Brewers and Music Festival in Huntersville. Remember, the tasting is only from 12:45 p.m. to 4 p.m. but there will be additional craft beers sold throughout the day, so bring some extra cash if you are planning on camping out. Music runs all day, with Acoustic Syndicate headlining the event at 8 p.m. This will be my first NC Brewers festival and I'll be providing Twitter updates at @Matt_McKenzie1, so if you're out there, give me a shout.
• A few new releases from local breweries are happening or have already happened. I had a post about Olde Mecklenburg's Rein Pale Ale in last week's blog, and the brewery is also releasing their Hornet's Nest Hefeweizen at the brauhaus on Friday, May 10 at 5:30 p.m. It will be on draft and available in growlers, and OMB is also partnering with the Charlotte Knights for Friday's game against the Pawtucket Red Sox. Get one lower level ticket, one beer at OMB and two OMB beers at Knights Stadium, food at the game and transportation to and from Olde Mecklenburg Brewery for $45. You can purchase tickets by visiting OMB's online store or the brewery.
Also just released is NoDa Brewing Company's NoDajito. This Belgian Wit was popular last year during the hot summer months, thanks to the crisp mint and lime taste. Looking for a new concoction? Check out NoDa's Vine post for a Thin Mint, which combines Coco Loco with NoDajito.
• Speaking of NoDa, the excellent beer blog Drink Blog Repeat had the scoop on the announcement that the brewery will officially begin distribution in South Carolina. Hop, Drop 'n Roll, Ramble on Red and Coco Loco should be arriving in the Fort Mill, Rock Hill and Columbia markets within the next two weeks. This is not surprising, as owner Todd Ford told me last year NoDa was in the process of looking to expand into neighboring states, along with bottling more beers. Could we see additional local breweries heading south? Stay tuned, but I imagine the odds are good.