Quick Pours: All Ale to the Queen Tickets on Sale, Olde Mecklenburg's Fat Boy Release/Bottle Share and Charlotte Beercast Teams Up with NoDa Brewing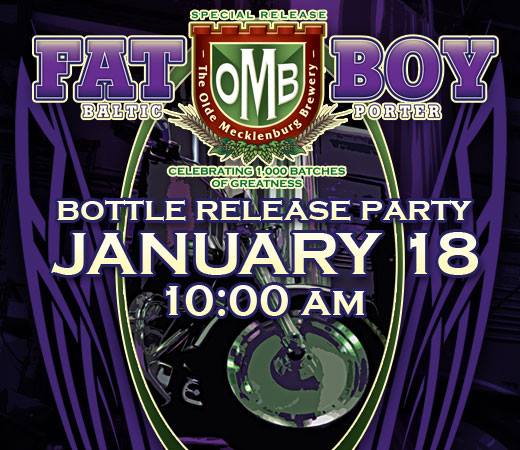 The holidays are over and it's back to work. That's never fun, but cheer up with these upcoming events in the Charlotte beer scene:
• Monday marked the official on-sale date for All Ale to the Queen, Charlotte's newest beer festival and the official closer of Charlotte Craft Beer Week 2014. More than 20 breweries have already been announced for the March 22 event, including local ones in Ass Clown Brewing, Unknown Brewing, District 9 Brewing and Lenny Boy Kombucha along with noted North Carolina breweries such as Wicked Weed, Natty Greene's, Burial and Big Boss.
This festival, or, rather, carnival, is packed with events, including a beer cloning challenge, brewery throwdown between Asheville and Charlotte and a vertical tasting, to name a few. As we get closer to the date, I'll have a more extensive preview.
Tickets for the event are $35 from now until Feb. 23, with prices increasing to $40 and then $45 the day of the festival. All Ale is also offering early bird admission for an extra $10, which gives you an extra hour and a half before general admission opens up, along with a commemorative pint glass. Finally, there is the "King of Craft" session, in which only 100 tickets ($85) will be sold. This ticket gives you the early bird admission, along with entrance into the beer/cheese pairing, vertical tasting and the palate-testing "Beer Gone Bad." You can purchase tickets by going to this link.
In other Charlotte craft beer festival news, both sessions for Queen City Brewers Festival are now officially sold out. If you missed your chance, Charlotte Magazine is giving away two tickets, which you can find out about by going here.
• Next Saturday (Jan. 18), Olde Mecklenburg Brewery is once again having a special release party for its Fat Boy Baltic Porter. Of all the taproom-only beers OMB has released, Fat Boy has been my favorite, thanks to its robust malt flavor and chocolate/caramel taste.
The release begins at 10 a.m. and just like last year, will again offer a German-style breakfast of eggs, sausage and potatoes. A $25 ticket will get you a 22 oz. bottle of Fat Boy, a pint of beer, a plate of food and a chance to be entered into the drawing for a brewery-themed gift basket. For $10 extra, you'll get the pint, food and raffle ticket, along with two bottles of Fat Boy. And Olde Meck is once again allowing guests to bring in their own bottles for a bottle share. Tickets to this release are selling quickly; buy yours here.
• For this week's NoDable release, the folks at NoDa Brewing teamed up with Charlotte Beercast for the local podcast's second brewed beer in under a year. This one is Deadline Coffee IPA, coming in at 7.8 percent ABV and described as "a mellow coffee taste that follows the hoppiness of an IPA."
If you recall, last year the guys at Charlotte Beercast collaborated with Birdsong Brewing for "Tribute," their ode to Heady Topper. That beer was fantastic (and broke Birdsong's record for how quick a small batch sold out), and I expect more of the same from Deadline Coffee. Charlotte Beercast will be on hand for the release of Deadline Coffee today, so stop by and chat beer while enjoying their newest creation.
NoDa Brewing is also asking for its fans to choose their favorite NoDable Series release from 2013, which they'll put on the larger production system. The brewery did this last year and Hop Cakes was the (deservedly so) winner. Go here to check out all of the nominees and vote (I went with Back Slap, which was wonderful), and NoDa Brewing will be announcing the winner next week.