Quick Pours-Dinners, Dashing and Debuts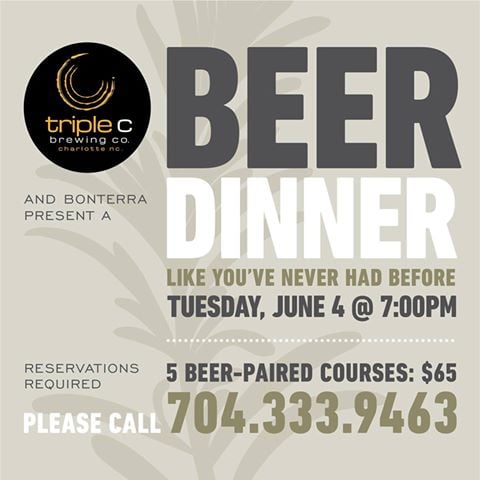 Here's a quick look at some upcoming craft beer events this week, along with some news about future happenings.
• There are a couple beer dinners this week that match up local breweries and restaurants, giving you a sample of both worlds. On Tuesday, June 3 at 7 p.m., Triple C Brewing Company and Bonterra are combining to present "a beer dinner like you've never had before," according to the release. This is a five-course meal that features selections from Triple C paired with dishes from Bonterra. Here's the menu, as both the beers and courses look mouth-watering. Tickets are $65 and reservations are required; call 704-333-9643.
Olde Mecklenburg Brewery is also having a beer dinner this week, teaming up with Fitzgerald's Irish Pub Thursday, June 6 at 7 p.m. This dinner is four courses and also looks tasty (OMB Copper and bacon-infused ice cream with maple caramel sauce anyone?). See the full menu and order tickets here. Price is $35, and Fitzgerald's is also offering free validated parking in the Wake Forest Parking Garage.
• A couple of months ago, I wrote about "Beers for Boston," put on by NoDa Brewing's Run Club to help a local family who suffered injuries at the Boston Marathon bombings. That event raised more than $1,200, and led the Run Club to also donate proceeds from their upcoming inaugural 5K to the Be Strong Stay Strong Fund, which was set up to help with medical bills.
The 2013 NoDa 5K will be Friday, June 7 at the brewery (7 p.m.). Registration is still open, and is currently $30 (it goes to $35 on race day). With your ticket, you'll get a T-shirt along with two NoDa beers upon finishing the race. The brewery will also feature live music at the afterparty, and there will be awards handed out to the top three males and females in various age groups.
• Here are a few new craft beer-themed eateries to keep an eye on. Duckworth's Grill and Taphouse is set to open its fourth location June 18 in Huntersville, located off Statesville Road (off exit 25). Just like the other three, look for a multitude of taps and bottles, along with daily specials.
Back in Charlotte, look for The Rusty Onion Pizzeria and Pourhouse to open sometime this summer. Located in Carmel Commons Shopping Center (it's where the old Carmella's used to be), The Rusty Onion will feature 24 taps, primarily focused on local breweries. On their Facebook page that's detailing the opening progress, they already have a few cool pictures of their lighting, which are custom-painted with local brewery logos.
Finally, Pint Central will be the latest addition to the Plaza Midwood area. Off Central Avenue, the restaurant is shooting for a target opening date sometime in August. I'll have more information once it becomes available, but for now you can follow their Facebook page for updates.
• Last week's blog featured craft beer happenings this summer at the U.S. National Whitewater Center, and there is one more to add. The Whitewater Center is teaming up with Terrapin Beer Company for the release party of RecreationAle, Terrapin's first canned offering.
RecreationAle is a "hopped-up session ale," coming in at 4.5% ABV. It will be available in stores in 12-packs, designed so you can take them camping and other outdoor activities. Where better to have the release party than the Whitewater Center? The event is this Saturday, June 8. Terrapin will have a tap takeover along with RecreationAle cans available throughout the day. There will also be raffles and giveaways, and Porch Dog Revival provides the music at that night's River Jam.