Quick Pours-Memorial Day edition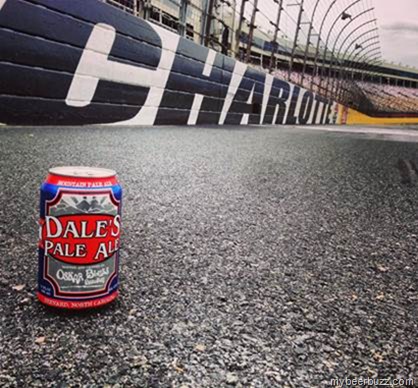 As we head into Memorial Day weekend, here's a look at several things that are going on in the Charlotte craft beer community. Have a safe holiday, and enjoy it with a (local) beer or two!
• If you're heading to the Coca-Cola 600 Sunday, there's now another option at concession stands rather than Bud or Miller Lite. Yes, that's correct: Craft beer has come to NASCAR. Well, Charlotte Motor Speedway, at least.
Oskar Blues is CMS' first craft brewery partner, and cans of Dale's Pale Ale and Mama's Little Yella Pils will now be available at the speedway, zMax Dragway and the Dirt Track. Oskar Blues, which is out of Brevard, N.C., also sponsors a super late model racecar team based in Colorado.
• In a previous On Tap post, I wrote about multiple craft beer festivals that were taking place over the next two months. N.C. Brewers Fest was a blast (despite the rain), and congratulations to Free Range Brewing for winning the N.C. Brewer of the Year.
Tickets for Charlotte Brewers Fest (June 1) are still available, and don't forget about the Brew Stash Bash at the U.S. National Whitewater Center June 15. There's no charge to attend (other than a $5 parking admission charge), and $5 gets you four beer tickets.
• By now, most Charlotte residents have heard our NBA team is in the beginning stages of reverting back to the Hornets name. While I still have numerous doubts whether this will actually put fans in the seats, that's for another time (and blog). But did you know the craft beer connection with the Hornets name?
Daniel from CharlotteBeer.com has a terrific rundown on the history of local Hornet-themed beer, including Olde Mecklenburg's Hornet's Nest Hefewiezen, which can currently be found on tap at OMB.
• Finally, a few upcoming local beer events: Olde Mecklenburg Brewery is having a pig pickin' and cornhole tournament June 8. $20 at the door will get you a plate of barbecue along with two sides and a pint of your favorite OMB beer. The cornhole tournament will begin at 2:45 p.m. $10 per team, and it's winner-take-all. You can pre-register for the tournament anytime during OMB's regular hours.
The Duckworth's on Park Road released their share of Founders' KBS and Doom during last weekend's Pints for Prostates fundraiser, and if you didn't get to attend, the taphouse is having a Founders Beer Dinner this Sunday (May 26) at 1 p.m. The dinner consists of five courses, with each paired with a different Founders Beer. Tickets are $50 and can be purchased at the taphouse or by calling (704) 527-5783. Check out their Facebook page for the full menu (I can't tell you how great the dessert sounds).
Triple C Brewing Company is also partnering up with Bonterra for a dinner June 4. This dinner is also five courses, and Triple C's Facebook page has the full menu. Call (704) 333-9463 for reservations.