Quickie Review: Breakfast at Amélie's
The eatery that needs no introduction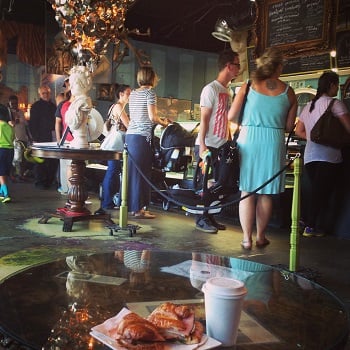 Ah, Amélie's French Bakery. The scent of fresh pastries, breads, cookies, sweets, soups, and more wafts out over North Davidson Street. Although the shabby chic Parisian eatery enjoys tons of success for its fresh baked cakes, cookies, and desserts, I'd never taken the time to try breakfast at the Charlotte staple.
My companion and I trekked to Amélie's on a Saturday morning around 10am, which happened to be RIGHT before a crowd of people came marching through the door hungry for breakfast. Luckily, being ahead of them allowed us to grab a comfy spot to enjoy our meals.
We both opted for egg sandwiches, although went for different renditions. Given the choice of baguette or croissant, we both chose the croissant. I chose spinach, tomato, manchego cheese, and ham for mine, while he opted for spinach, cheddar, and bacon on his.
Although my companion loved it, I was a little bummed to have the croissant toasted. Sure, it was warm and crunchy, but I longed for the buttery soft goodness of the fresh baked roll. To each their own — I'll just specify that I would prefer a non-toasty croissant next time. Additionally, some cheeses (like manchego) are a bit more money, which is totally acceptable and understandable; but, I would have hoped for maybe more than one very very thin slice on my breakfast sandwich, since it seemed a little lost with the egg, spinach, and ham (which were all delicious and fresh). Overall, the sandwiches plus our drinks (I had a creamy and spicy chai tea latte while he opted for a café au lait) were a lovely breakfast, complete with always entertaining people watching. I'll just be sure to ask for a non-toasted croissant next time.