Quickie Review: Jade Dragon
A hidden gem in south Charlotte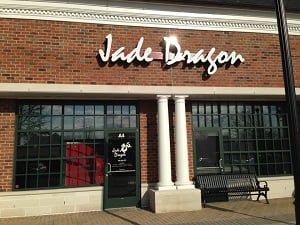 Chinese take out is one of those things that can be a comfort turned discomfort. How many times have you called up your go-to place, gotten your food, practically inhaled it, then felt positively awful about it later?
Jade Dragon is NOT one of those places. Nestled in the shopping center on Colony Rd. and opened in April 2013, this little Asian restaurant has a ton of stuff you need to try – for either dine-in or take-out. You can also find more Thai-inspired dishes like curries and coconut-based sauces along with the Chinese standbys like sesame chicken and wonton soup. First off:
Crab Rangoon: I know these are kind of polarizing for some people, but really, these are some you need to try. I'm not saying they're made from the freshest of crab from local waters, but whatever they're using, it results in a creamy filling snug inside that crispy wrapper. Yum.
Sesame Chicken: This dish often ends up kind of "meh." However, upon trying it from Jade Dragon, my love for the classic was renewed. Usually, sesame chicken offers dried out and meager pieces of chicken, heavily breaded, fried, then smothered in sesame sauce. Jade Dragon's version featured some of the biggest, most moist, and juiciest pieces of chicken I've had anywhere. The sauce was tangy, flavorful, and brought together a combination of citrus, honey, and soy. Seriously, if you've had sesame chicken as your go-to for years, try it here.
Okra in Black Bean Sauce: I'm always a bit wary of okra. If it isn't cooked perfectly, you can plate up a slimy green vegetable that borders on mushy. Thank goodness I tried it at Jade Dragon. The okra stayed crisp tender and the black bean sauce was rich without overpowering the beauty of the sometimes misunderstood veggie.
Hot Singapore Chow Mai (Singapore Rice Noodles): One of my new favorites – skinny rice noodles are tossed in a mild curry sauce (think Thai curry mixed with a little Chinese flavor) along with pork, mushrooms, shrimp, celery, peppers, sprouts, and onion. They're insanely addictive, and I can never finish them in one sitting.
Branch out and try something other than your go-to Chinese!