Quickie Review: Tacos El Nevado
The authentic eatery on South is about as real as it gets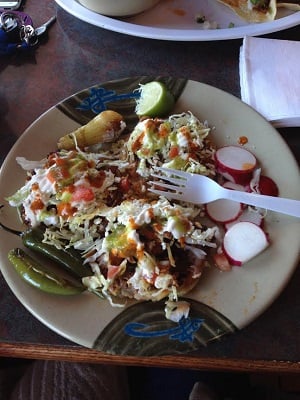 When you arrive, a sea of brightly painted wooden chairs and tables will greet you. The TV usually has on some sort of futbol match or Spanish language show. A window for takeout is located next to the bar, with patrons steadily streaming in and out for pick up orders. For dine-in, unless there's a crowd, you're pretty safe to sit wherever your heart desires when you walk into Tacos El Nevado on South Blvd. First, a few notes:
The wait staff speaks Spanish as a rule. If you're really struggling, they'll switch to English, but at least brush up on some basic phrases here. Hola, como estas, me gustaria (I would like), etc.
You will NOT get chips and salsa; this is not your typical Americanized Tex-Mex eatery.
What you will get are three salsas for any of the dishes you order. One is a guacamole with avocado, cilantro, and cream blended to a light consistency. The dark red is for the daring only, and the green tomatillo version is piquant and zesty.
As a note, try to be wary of the grilled serranos gracing your plate as an edible garnish. I took it upon myself to take a generous bite of one, leading my companion to frantically try and figure out the Spanish word for "radish" and relay it to our waitress while my mouth burned.
I ordered the sopas while my companions ordered the lamb tacos and carne asada burrito, respectively. All of the meat was tender, flavorful, and well-seasoned without being overpowering. The vegetables – lettuce, tomatoes, onions, and cilantro – were all crisp and fresh. For my own meal, the corn cake foundation of the sopa was moist, warm, and delicious and surprisingly complemented by the fresh queso fresco sprinkled over the top. The silence I heard as my companions enjoyed their meals was evidence enough that their plates were equally delicious.
If you're craving margaritas, chips, salsa, and trendy atmosphere, this is not your joint. If you're craving authentic Mexican food, served with radishes (which will cut ANY amount of spice), grilled serranos (hotter than they look), and grilled baby onions, this is your new neighborhood favorite.
There are two locations for Tacos El Nevado: We visited the eatery located at 4640 S Blvd. The second location is at 4715 Central Ave.