Quickie Review: Thai 1st
This Blakeney eatery offered flavorful dishes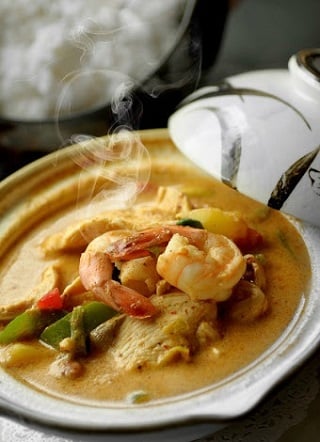 Living in Ballantyne has its pluses, including not having to drive uptown, relative quiet, and pretty much anything one could need in terms of shopping. However, it is a bit of a restaurant desert. Of course, there are some wonderful standby options, but having a large variety to choose from simply doesn't exist way down in these parts.
I did recently stumble on to a new-to-me gem called Thai 1st. The restaurant sits in the Blakeney Shopping Center, right near Bravo!. On a recent evening, a dining companion and I trekked in to see if the food could stand up to some of the Thai restaurants we love closer to uptown.
The interior was more take-out than restaurant feeling, but, overall, we were comfy. Service was quick, attentive, and super helpful when it came to suggestions. We each ordered a Thai iced tea which, to me, is always necessary when you're about to order things "Thai hot." Unlike some teas I've had, this one still had a strong herby flavor throughout which wasn't too muddled by the super sweet cream and milk. We also ordered the Tiger Rolls as an appetizer. The egg/spring roll inspired dish doesn't stray far from the "formula," but the addition of plum sauce for dipping and cream cheese in the roll itself creates a nearly creamy interior balanced with sweet and salty.
Although my companion had expressed interest in trying the red curry, our waitress pointed out that the yellow curry was thicker, and – she thought – more flavorful, so he opted for her suggestion. I went with the Thai Lover. Both arrived hot and with big bowls of freshly steamed rice. The yellow curry was thick, rich, meaty, and well-seasoned without being too spicy. It paired wonderfully with the chicken (you have a choice of beef, chicken, pork, shrimp, or tofu) and the vegetables were still crisp tender.
My Thai Lover bowl was a sweet and savory combination of shrimp, chicken, cashews, pineapple, peppers, and scallions, which totally delivered on the Thai hot spiciness I had ordered. Like a yellow curry, the sauce was thick but didn't bog down the flavors and, overall, the taste was much more complex than a regular curry. The dish is now my go-to when ordering from Thai 1st.