Quickie Review: The Liberty
The South End gastropub offers a great combo of pub grub and heavier entrees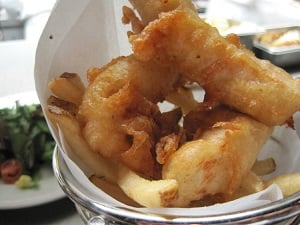 On a recent rainy, stormy evening, a companion and I trekked to South End to eat at The Liberty – the restaurant owned and operated by the same duo running Lumiere in Myers Park, Matt Pera and chef Tom Condon. Two very different establishments, but each have their strong points. The Liberty's strong points include burgers, salads, and drinks. Allow me to elaborate …
A wide selection of beers – especially from Charlotte's several breweries – are usually on tap. NoDa, Birdsong, and Olde Meck favorites like Founders, Lazybird Brown Ale, and Ramble on Red are among them.
When it comes to food, salads like the Crispy Goat Lady Goat Cheese are simple but awesome. The tangy goat cheese gets a boost from being fried before being situated atop peppery arugula and flanked by avocado and f. However, if you are feeling peckish before the main event, I'd advise you to stick with the familiar. Although it looked great on the menu (the description read: "crispy calamari, spicy slaw, sweet garlic sauce"), the calamari appetizer was chewy, oddly textured, and overall rubbery. The coating was crisp and the slaw was a punch of flavor — every component EXCEPT the squid worked well on the plate. Bummer.
Saving grace? The Southern Prime Crunch Burger ($15) came with pimento cheese, jalapeno bacon, onions, and chips (for crunch, duh) and was succulent, giant, and delicious. On the more "refined" front, the Fish and Chips ($16) were crispy, fresh, yummy, and also, giant.
Leave room for dessert – the Salted Caramel Budino is is tangy, sweet, and savory. This gastropub has a packed house on Fridays and Saturdays for a reason.