Quickie Review: Vivace
Homemade pastas in a very stylish spot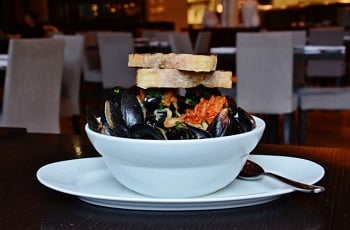 On a recent evening, a few companions and I ventured to Vivace, an Italian restaurant snuggled in the shops on Metropolitan Ave. Being from the Northeast, I tend to be a bit of a know-it-all when it comes to Italian food (especially pizza), so I was holding my breath for the meal to come.
Upon walking in, I noticed the soaring ceilings, mod lighting, and moody lighting of Vivace. Despite being only one of a handful of people dining, the room felt cozy, warm, and intimate (despite being able to seat upwards of 150).
To start, my companions and I opted for a few tastes of Vivace. The PEI Mussels, in my opinion, are often best when done very simply — and the team at Vivace seems to agree. The tender morsels are steamed in a bath of white wine, brown butter, thyme, shallots, garlic, and roasted tomatoes. The grilled bread came in quite handy for sopping up the sauce. We also tasted the Brussels Sprouts — one of the stars of the autumn menu. The combination of the vegetable with pancetta and ricotta salata (among other ingredients) made for a savory bite.
Salads aren't usually that worth noting, but the Tuscan Kale rendition was something special. Because the kale is massaged and then wilted with a warm fig balsamic, the sometimes bitter and vein-ridden green becomes a supple and wonderful bed for the halved figs, pancetta, pistachios, and caprina cheese. Additionally, this is probably one of the only salads I've ever had that held up just as well the next day.
A restaurant can often be judged on how well classics are executed. The Spagheti featured a vibrant sauce; the likes of which I've only tasted from Italian grandmothers slaving over a stove and peppering the air with profanity. The use of San Marzano tomatoes, guanciale (kind of like bacon), and parmesan made for a piquant and comforting dish. Also notable was the Veal Saltimbocca — the only entree which has remained on the menu unchanged since Vivace opened in 2010. The plethora of earthy mushrooms and sage spilling over mozzarella filled ravioli makes for a satisfying and filling dish.
Although we were stuffed to the gills, my companions and I decided to split the Mascarpone Cheesecake. I usually expect to take two to three bites of any cheesecake before calling it quits, but the lightness of the mascarpone, the crisp and honeyed texture of the graham cracker crust, plus the charred pineapple sauce and pink peppercorn caramel made for a zingy (yes, zingy) dessert that served as an excellent end to the meal.
Overall, Vivace provides a stylish backdrop for an intimate date night or a trendy get-together with friends. The sophistication of the dishes and the warmth of the staff make for a very different take on the rustic and no-frills typical Italian restaurant visit.