Quickie Review: Wolfgang Puck Pizza & Bar
The eatery brings its A-game during Restaurant Week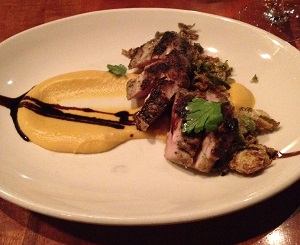 The Queen's Feast is in full swing, and I was one of the thousands who found themselves out celebrating the return of all things food in Charlotte this past Friday. My companion and I settled on something close to home – but after being unable to grab a reservation at Georges Brasserie, Toscana, or even Upstream, we settled on Wolfgang Puck Pizza | Bar.
First off, parking was a bit of a nightmare, but that was kind of expected. We sat down immediately to eat and quickly ordered the prosciutto-wrapped burrata al forno featuring a small salad with baby arugula, Marcona almonds, and five slives of house bread which was more reminiscent of pita. The burrata was gooey and creamy inside – perfect for spreading on the pita-ish bread and topping with the arugula (dressed with a very vivid citrus vinaigrette) and a few almonds.
My companion opted for an entree off the regular menu – the pasta Bolognese. It was meaty and the dollop of ricotta on top added a creamy bite to the dish. I had opted to go the Queens Feast route and chose the grilled pork tenderloin which came with a smear of butternut squash and apple puree, as well as a crispy Brussels slaw. At first bite, I was afraid the pork was over-seasoned, but upon dipping the meat into the sweet squash puree I found a well-balanced flavor combo.
For dessert, we settled on splitting the doughnuts which came covered in cinnamon sugar and accompanied by sweet cream. They were little pillows of warmth and sweetness – great with coffee.
In all honestly, I wasn't expecting the caliber meal we received. If you haven't been, head out to this top restaurant in Charlotte for a fabulous surprise.