Raise a Glass Ceiling: Inside Craft Brewing's The Pink Boots Society
It promotes women and nonbinary people in the industry, and the annual Biere de Femme Festival toasts how far they've come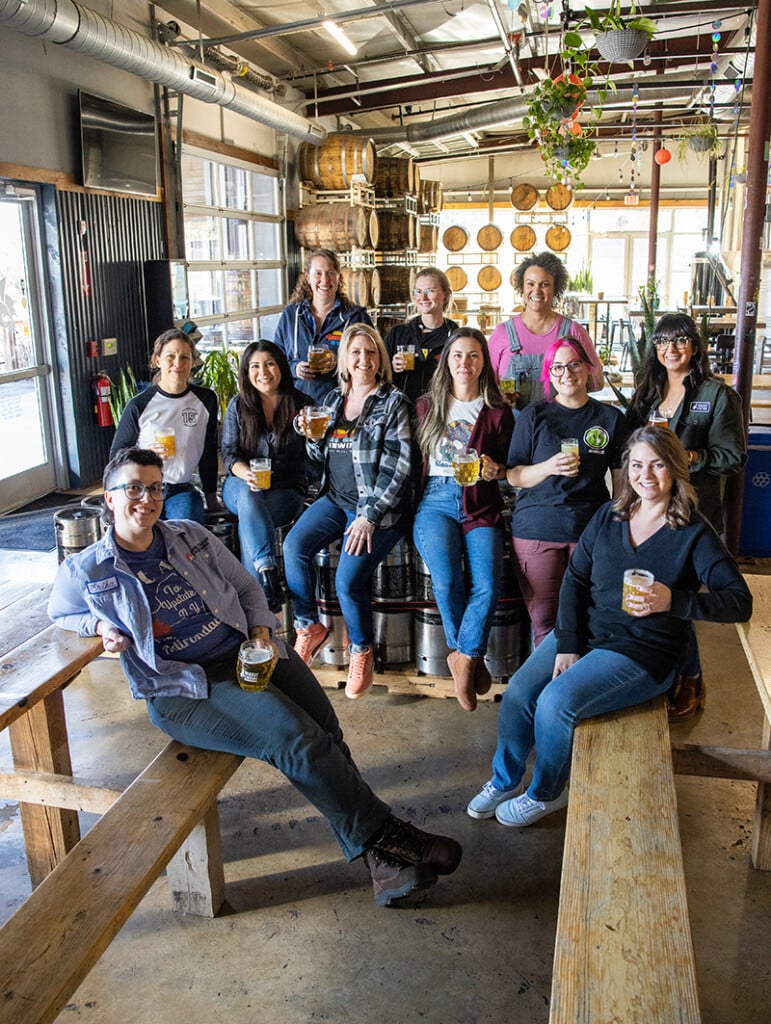 In 2008, 23 women at the annual Craft Brewers Conference, the largest industry gathering in the country, formed an organization to support and promote women's contributions to brewing, especially in the craft beer industry. The nonprofit Pink Boots Society now has roughly 1,800 members around the world, and Charlotte boasts the third-largest chapter, behind San Diego and Florida.
The Brewers Association found in 2021 that just 2.9% of the country's breweries were owned entirely by women, even as women drinkers under 25 now outnumber their male counterparts. In an Instagram post the same year, Brienne Allan, a former leader of the society's Boston chapter, prompted fellow women in the craft beer industry to share experiences of sexual harassment and abuse. She received more than 800 replies and thousands of messages with stories that ranged from ill-considered remarks to rape.
"As a whole, we know that the industry has a lot of work to do," says Razia Gonzalez, marketing manager at Resident Culture and a member of the Pink Boots Society's Charlotte chapter. Often, she says, breweries objectify and sexualize women to market their products or taprooms. Fortunately, she adds, that's rare in Charlotte. (Last year, Midnight Mulligan Brewing apologized after a disgruntled contractor shared that their internal marketing guidance recommended posting photos of attractive women on social media.)
When it does happen, "we are quick to call each other out," Gonzalez says. "And I wouldn't even say 'calling out' but 'calling in,' because these are people we admire, love, and respect."
But the Pink Boots Society doesn't exist to police abuse. The organization focuses on camaraderie, education, advancing women's careers—and celebrating the strides they've made. Six years ago, the five North Carolina chapters (Asheville, Charlotte, Greensboro, Raleigh, and Wilmington) united to launch the Biere de Femme Festival, which showcases women's contributions to brewing.
The event takes place in a different North Carolina city each year; in 2022, Charlotte's NoDa Brewing Company hosted. (Suzie Ford, one of the city's craft beer matriarchs, co-owns the brewery, one of Charlotte's oldest.) More than 40 breweries and other local businesses participated in the September festival, which featured tastings, educational experiences, food, and entertainment. Proceeds went to the society's scholarship fund.
Gonzalez says women emphasize a strong commitment to education—partly because they often feel like they need to earn seats at the table. While men ferment things in buckets in their garages, for example, women may seek cicerone and sommelier certifications. And in Gonzalez's experience, they don't close the door behind them. The craft beer scene crawls with gatekeepers, something Gonzalez and fellow chapter members are determined to counter.
"The women here," she says, "do not believe in that." Instead, they look for opportunities to help others "learn more and do more."
Gonzalez has worked in and visited craft beer scenes in other cities, and her experience in Charlotte has been among her favorites. The landscape is diverse, supportive, and welcoming, and she believes it's only going to improve. "I think Charlotte as a whole is more aggressive in their desire for change," she says. "And that's something that's really beautiful."
ALLISON BRADEN is a contributing editor.