Rating Charlotte's Food Delivery Services
As they pounce on Charlotte, we put takeout options to the test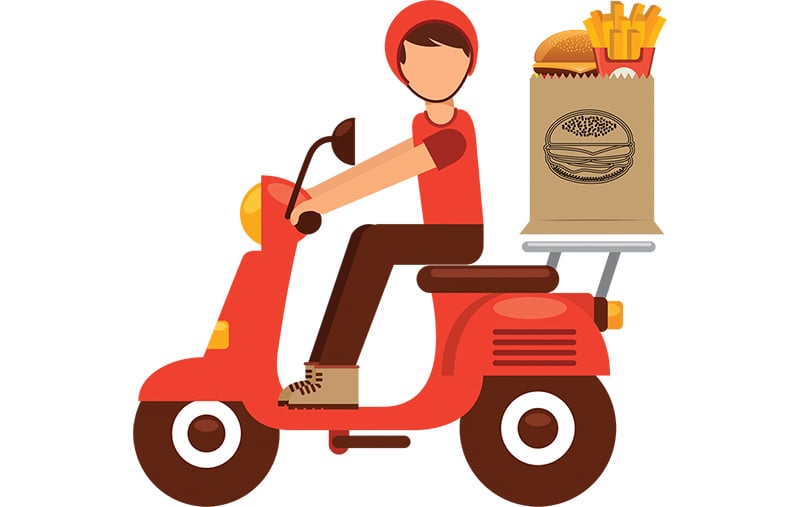 IT HAS BEEN ONE OF THOSE WEEKS, for all of us. We are three friends who want to hang out, but the energy required to go to a restaurant or bar seems more than we can muster. Forget about cooking something ourselves. We order in. Twice: Once for dinner and, because mental exhaustion has led to poor planning, once more for dessert. I prefer to remember this lazy gaffe as extensive consumer research.
Whether you're looking to order lunch for a work meeting, too tired to cook for the family, or just feel like eating your pho at home, the advent of food delivery services can make life a little easier at mealtime. Right now, there's a bunch of such services in Charlotte, and their competition for your dollars means lots of promotional discounts and giveaways. We tried some of the most popular ones, and learned that each had its own advantages.
As with ride-share services, occasional mishaps occur. If you have an issue, you'll need to take it up with the delivery service and not the restaurant itself; sometimes, the restaurants don't even know they are fulfilling orders for these services. A few more pieces of advice:
• Don't leave your driver hanging. If you're ordering from an o ce, be ready to meet your driver as he or she dashes in and out. Parking can be a challenge.
• Look for hidden costs. Sometimes, the restaurant itself charges an additional fee. Your grand total may be significantly higher than expected, after all fees, tips, and taxes are included.
• Don't wait too long to order. You can expect most deliveries to take around 40 to 60 minutes, though some can be as quick as 30. At busier times, the wait time can push well past an hour.
• Use caution when ordering for a crowd. Don't forget that a restaurant is involved in this process. Springing a large, last-minute order on the kitchen can cause confusion and delays. Some services, such as DoorDash, cater to catering requests.
• Share and save. Many of these delivery services reward credits to customers who talk about them on social media.
NOT SURE WHAT YOU WANT?
DOORDASH
This service o ers more than 250 categories, including one for chicken wings. You can also sort by user ratings, price, and speed. The delivery fee varies, but is typically $1.99 – $3.99. What I like most: Account credits for future orders, instead of promotions for things you may not want.
VARIETY: 8/10
SPEED: 9/10
COST: 9/10
OVERALL: 9/10
HUNGRY LATE AT NIGHT?
POSTMATES
Postmates offers delivery 24/7 from any restaurant or shop in its service area, just in case you're in urgent need of a taco or a nasal strip a er midnight. Mind the delivery fee: I've paid as much as $10.50, and that's not including the service fee. What I like most: GPS tracking means you can watch your driver's progress in hungry anticipation.
VARIETY: 10/10
SPEED: 7/10
COST: 6/10
OVERALL: 8/10
Editor's note: Now, Postmates has brought its DRINKS service to Charlotte, in which beer is delivered in 25 minutes or less. For the first month (Sept. 2017), there are no delivery fees on DRINKS orders. (Otherwise, anything more than $20 has free deliveries.) Beers are taken from local merchants, with a focus on local beer.
WANT TO SUPPORT THE LOCAL GUY?
FOODIE CALL
Foodie Call's first order was placed in 2010, long before national brands came to town. This locally owned service includes more than 120 restaurants, almost all of which are also locally owned. The delivery fee is typically $5 to $12 and a minimum order is required. What I like most: Friendly customer service from people located here.
VARIETY: 6/10
SPEED: 9/10
COST: 8/10
OVERALL: 8/10
PREPARED MEALS BROUGHT TO YOUR DOOR
Charlotte is also home to several prepared meal services that deliver healthy, balanced options to keep in your fridge or freezer—at work or at home.
MODPALEO
Despite the name, this service, which is now nationwide, o ers fresh and frozen meals suitable for a range of diets, including vegetarian and primal. Many of its ingredients are sourced locally, and options stay fresh as the seasons change. $60 minimum order
NOURISH
Nourish Charlotte o ers meals geared toward vegetarians and vegans. The meals are organic, locally sourced, and avorful. Its creative menu changes each week. $50 minimum order
VIVA RAW
Those seeking nutrition or refreshment (or both) on the go can have fresh, cold-pressed juices and nut milk. These juices can be ordered a la carte or as part of a cleanse. $40 minimum order