Real Wedding: Lauren & Oliver
December 31, 2010 The Ritz-Carlton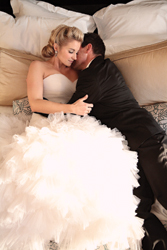 English-bred Oliver Wilson still knew how to keep South Carolina native Lauren Smith on her toes seven years after they first met—with a surprise proposal in Thailand.
With families on both sides of the pond and the couple always on the road (Oliver is a professional golfer), they hired wedding-and-event planner Ivy Robinson to take care of the details. Their two must-have items: a photo booth and an ice bar. The majority of the 120 guests stayed at the Ritz-Carlton, so everything was within walking distance. For the evening nuptials at the Ritz's Urban Garden, the bride's gown by Kenneth Pool with shiny, feathered tiers sparkled against the 400-plus candles that lit the room.
After the simple ceremony, cocktail hour worked double-time as a New Year's Eve party. For the reception, the white-clad ballroom kept the look modern while the menu feast included lobster bisque, steak, and trout. The grand finale was right before the second round of New Year's Eve celebrations, when another section of the ballroom opened up to a late-night lounge. However, the most festive sight was the bride, who had changed into her mother's wedding gown—revamped into a short party dress—for the reception.