Real Wedding: Michelle & Joe
July 17, 2010 Van Landingham Estate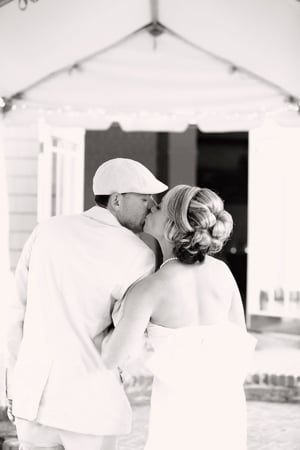 The whimsical personalities of Michelle Swaney and Joe VanGaasbeck sparkled during their wedding journey, beginning with the way the groom, twenty-eight, proposed—just three months after they began dating. The two, who met while working at U.S. Aquatics, were just sitting down for a portrait by a caricature artist at Carowinds amusement park when Joe pulled out the ring. The artist captured the special moment on paper.
Their fun-loving nature was also in full force during their engagement photo session based on Grease. The happy couple had so much fun with their pictures that they decided to weave their inspiration—1950s soda shop—throughout their wedding.
On July 17, Michelle, twenty-five, wore an A-line, off-white Priscilla of Boston gown, while her bridesmaids wore canary-yellow dresses. The groom, twenty-eight, and groomsmen wore beige suits with yellow-and-white-checkered shirts—both Old Navy scores—and pink satin bow ties and yellow and pink Converse sneakers.
The 6:30 p.m. ceremony and reception for 105 guests took place outdoors at the Van Landingham estate, under a tent with coral-hued lighting. Candy jars with colored ribbons sat on a candy bar while sundae dishes stuffed with carnations sat on the guests' dinner tables. The bride's favorite sweet of the night: the couple's red velvet wedding cake with cream cheese frosting.