Real Weddings: Jaime & Shawn
August 28, 2010 Alexandria Island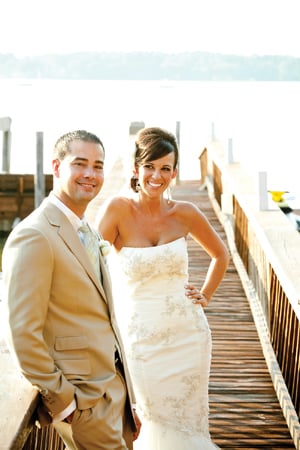 After Charleston couple Jamie, twenty-nine, and Shawn, thirty-four, met through Shawn's cousin, it was a whirlwind romance. "We were engaged two months later," Jaime says.
From the beginning, it was a family affair. From the rehearsal dinner to the reception, everything was held at Shawn's aunt and uncle's home on Alexandria Island on Lake Norman. The rehearsal dinner kicked off the weekend as family members grilled up filets and shrimp and guests danced to the music of DJ Reggie Hairston, a friend of another one of Shawn's cousins. The next day, the 140 guests gathered back at the home for the vows, with (yet another) one of Shawn's cousins officiating. Shawn's uncle's tailor made the suits for the groomsmen, while the girls donned "appletini" dresses by Jim Hjelm. But it was the bride who stole the show in a beaded gown by Anjolique. Afterward, guests walked to cocktail hour, held steps away on the lake, while the bride changed into her Kenneth Pool reception dress with a detachable skirt—perfect for dancing.
The night ended at the water's edge, with a celebration that included a mashed potato bar, West Virginia-style pulled pork, and a five-tier cake by The Icing and The Cake adorned with vintage brooches, not to mention an evening of dancing.