Real Weddings: Jill & Chris
November 5, 2011: McBryde Hall, Winthrop University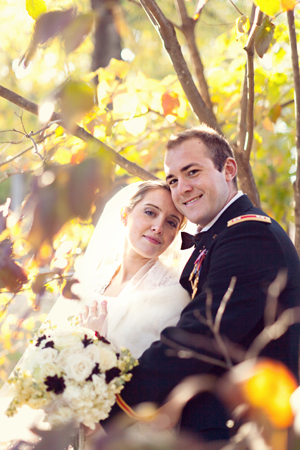 For Jill Hitchcock and Chris Coda it was an old-fashioned kind of introduction—his mother set them up. She was working as a travel nurse; he had just returned from West Point and was on his way to his next post. The pair had an instant connection, and after three tough years of deployments, they were engaged.
Since they had waited so long to be together, they didn't want to waste any more time being apart. Their June engagement led to a November wedding, which the couple planned in two weeks with the help of the bride's mother, who lives in Charlotte.
On Friday, to welcome out-of-town guests, the couple hosted a barbecue at a barn in Fort Mill, catered by Fort Mill BBQ Company. Since Chris is in the artillery branch of the Army, Jill surprised him with a groom's cake made into the shape of a cannon.
The couple had a Catholic ceremony the next day at St. Philip Neri in Fort Mill. The bride wore a dress by Allure Bridals, a friend's veil (something borrowed), and a pearl necklace worn as a bracelet—the first piece of jewelry that Chris gave to her. Bridesmaids wore brown silk taffeta dresses from Ann Taylor; groomsmen were dapper in Army dress blues.
One hundred guests were then invited to a reception at Winthrop University's McBryde Hall, which was decorated with candlelit lanterns and fall florals from Buy the Bunch. Following a traditional steak-or-chicken dinner came a non-traditional quirky brown wedding cake by Ella Art Bakery, topped with an elephant and a bison—an inside joke for the newlyweds.
For an old-fashioned exit, the couple changed into a suit and dress, and family and friends wished them well before they drove away into the night.