Rebooting the Homicide Task Force
Another year of murder spike compels new community effort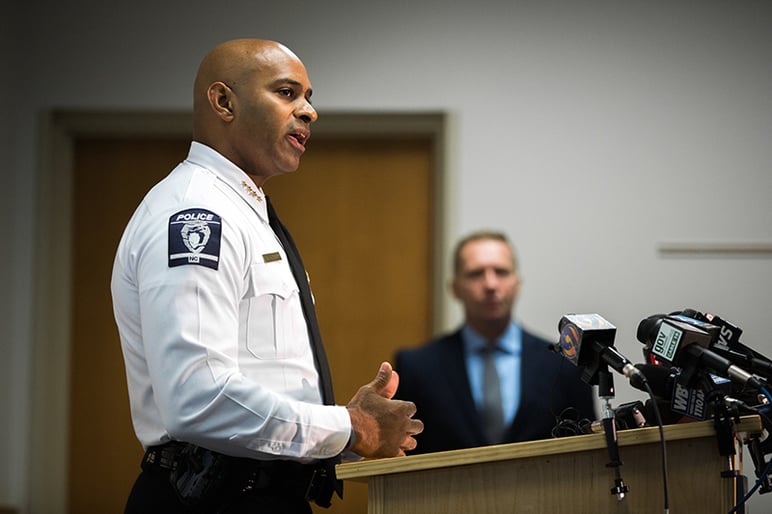 Charlotte's city government last formed a task force to examine the city's murder rate in 2006, following a year with a 10-year high in homicides. In August 2006, the Homicide Task Force produced a report and a series of observations and recommendations, some of which surely sound familiar to Charlotteans in 2017. "Homicide is a problem that belongs to every member of our community," the report's introduction concluded. "We all must own the homicide issue. We all must be outraged. We all must be catalysts for change."
The jaded among us might observe that if the task force had succeeded in its mission, Charlotte wouldn't be back roughly where it was a dozen years ago—at 71 homicides for the year as of Tuesday. That figure puts the city on track for 91 homicides in 2017. It would be the most since the record high of 129 in 1993, at the apex of the crack epidemic. (Charlotte registered 85 homicides in 2005—the total that compelled the task force's creation.) It's always difficult to pinpoint why efforts didn't fully succeed, and reasonable to ask whether anyone should have expected a permanent fix. "These things are cyclical," says Dianne English, executive director of the racial equity nonprofit Community Building Initiative, who chaired the 2006 task force. "We're dealing with a whole new group of people."
So the city is preparing to take another shot at a Homicide Task Force—this time with a broader, more detailed approach and with a firmer grasp of some of the underlying causes, such as growing divisions of race and class. City Council member Julie Eiselt, who chairs the council's Community Safety Committee, asked City Manager Marcus Jones on Monday to put together a list of potential members. "We need the community's help," Eiselt said, "in looking at the factors that have gone into the loss of lives in Charlotte." Charlotte-Mecklenburg Police Chief Kerr Putney publicly supported the idea during a committee meeting last week.
In reviewing the 2006 recommendations—which include early intervention through public schools, expansion of mentoring and violence prevention programs, and enhanced services to families of homicide victims—Eiselt perceived that "the most critical recommendations were not taken seriously," she told me Wednesday. Most of the work then was based on an assumption that gang and drug activity was driving the murder spike, she says, "and I don't really know if that's the case anymore."
Unlike last time, the drive behind the new task force originates not with the city or CMPD but citizens. Robert Dawkins of the police accountability organization SAFE Coalition NC began texting activists and reporters, including me, a few weeks ago. "Can any of you tell me why CLT ended the Homicide Task Force," he texted on September 16, "and, with the rise in homicides, why it's not being talked about?" Dawkins later emailed council members about the idea. His organization has been working with CMPD for months on police reform issues, such as additional powers for the Citizens Review Board, a body of volunteers that reviews use-of-force complaints against officers.
Dawkins told me Tuesday that he thought the 2006 task force, while it meant well, ended up "making recommendations that were real general." Ideally, he said, a rebooted group would examine and identify more specific solutions that might break, or at least bend, the cycle of generational violence. He mentioned Cure Violence, a prevention group that employs former gang members and felons from New York City neighborhoods to defuse potentially violent incidents before they start. A recent study credits the program with reducing the number of shootings in parts of Brooklyn and the Bronx.
"I'm interested in methodologies that can lead toward prevention. Being a family member of a homicide victim doesn't necessarily mean you're an expert on prevention. Being a pastor doesn't necessarily mean you're an expert on prevention," Dawkins says. The 2006 task force "made a little bit of a dent, but it didn't fix the underlying problems. It's going to take more than well-meaning people."
It's going to take more than police reform, too. One clear lesson from 2006, English told me Tuesday, is that lowering violent crime rates requires an examination of systems and institutions across the board: schools, public services, job opportunities, economic disparity, all of it. With the celebrated Chetty study, which ranked Charlotte last among 50 large American cities in social mobility; the Charlotte-Mecklenburg Opportunity Task Force efforts it prompted; and the citywide discussions since the Keith Lamont Scott shooting last year, Charlotteans understand the depth and breadth of the problem better than they did a decade ago. As with Project LIFT, the community effort to improve student performance in low-income public schools, people who mean well enough to try to fix what's broken need time just to understand where the fractures are.
"I think what we realized then was that it would require community will to try to address the problem," English says. With the old task force's work, she adds, came "the understanding that it would be very difficult to work ourselves out of this solely through the criminal justice system, that police alone were not going to solve the problem. You can't arrest your way out of this problem, and you can't jail your way out of it, either."