RECIPE: Mizu's Papaya Salad
From Chef Michael Chanthavong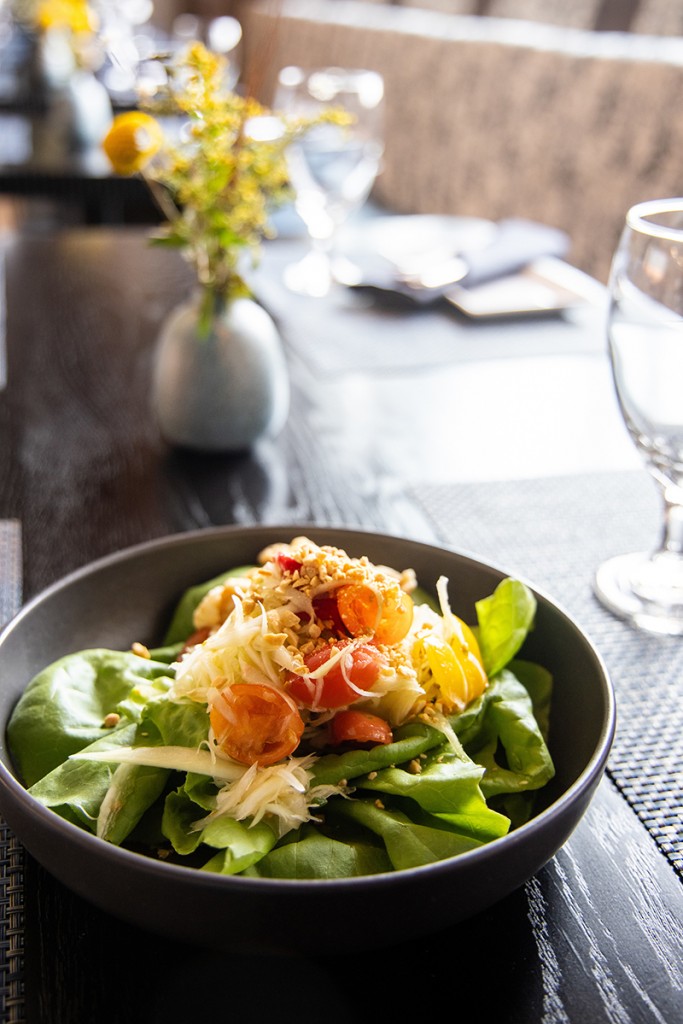 Papaya salad is a signature dish in Cambodia, Laos, and Vietnam—and a staple in most Thai takeout orders. It typically consists of a tart dressing, shredded papaya, and other ingredients that can include mango, cucumber, tomato, garlic, peanuts, and dried shrimp. Mizu's version accompanies the Hamachi Kama (yellowtail fish) and delivers a punch of heat. It's a refreshing mix of textures that combines savory, sweet, and sour flavors in each bite. Make it at home as a light entrée or a side—Chef Michael recommends serving it alongside cold noodles, pork rings, or chicken wings. 
INGREDIENTS:
3 cups shredded green papaya
3-4 crushed red Thai chile peppers
2 oz. fish sauce
3 oz. lime juice
2 ½ oz. palm sugar
Pinch of salt
1 clove crushed garlic
¼ cup crushed tomato
Leafy greens and peanuts for garnish
DIRECTIONS:
1. Mix the peppers, fish sauce, lime juice, palm sugar, salt, garlic, and tomato.
2. Mix in the shredded papaya and marinate for 30 minutes.
3. Garnish with your choice of leafy greens and peanuts.